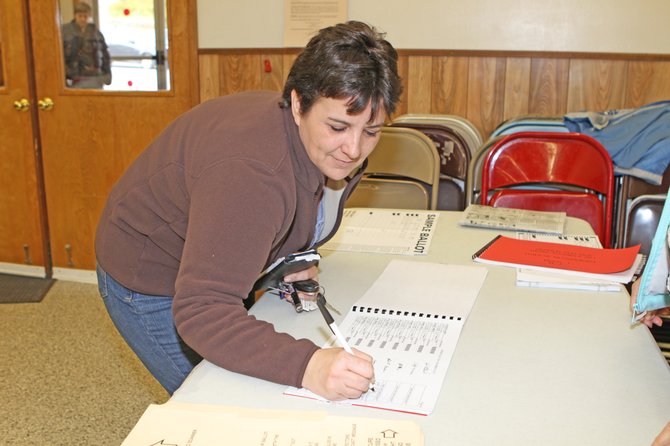 Crown Point — Charles Harrington has been elected Crown Point supervisor.
Harrington, a Republican, defeated incumbent Democrat Bethany Kosmider by a 454-316 margin in voting Nov. 8.
In the race for two town board seats Tara Peters received 473 votes, incumbent Charles Mazurowski 449, incumbent Yvonne DuShane 321 and Sherlene Simpson Barrows 155. Peters and Mazurowski are Republicans. DuShane and Simpson Barrows ran as independents.
Linda Woods, incumbent Republican, was re-elected town clerk by a 497-274 vote over Judy Mildon.
Art Miclette, incumbent Republican, defeated Marge Hurlburt to remain town justice. The vote was 506-218.
Eugene "Peanut" Ingleston, running unopposed, was re-elected highway superintendent with 585 votes. He is also an incumbent Republican.
All results remain unofficial until certified by the Essex County Board of Elections.
Harrington said his top priority is to move past the campaign.
"I want to try to get government back to normal; try to institute some trust," he said. "I'm glad it's over."
The election capped a bitter campaign that split the community.
Kosmider's first term has been marked by a controversial decision to eliminate the town's elected three-member board of assessors in favor of a sole, appointed assessor. In July, the Crown Point town board voted 3-2 to eliminate the elected assessors, effective Dec. 31. Kosmider joined with trustees DuShane and Bob Patnode in voting for the change. Trustees Mazurowski and Tom Walters opposed it.
Supporters of a sole assessor claim the move will save the town about $18,000 a year, noting the change was recommended by the town budget reduction committee. Opponents feel the current assessors are doing a good job, that money can be saved in other areas of the budget and people have a right to elect assessors.
The Crown Point town board's decision to eliminate the elected assessors divided the community. Some support the assessors, others support the decision and still others believe the issue should have gone to a public referendum.
(Continued on Next Page)
Prev Next
Vote on this Story by clicking on the Icon