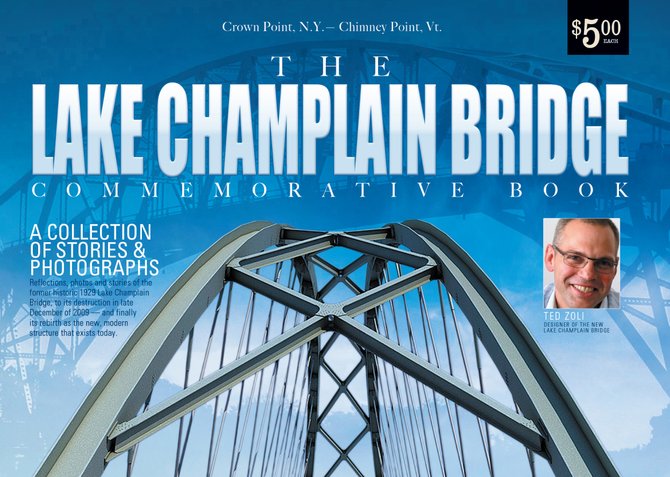 Middlebury — Denton Publications and New Market Press recently released the 132-page "Lake Champlain Bridge Commemorative Book" to celebrate the new bridge connecting Crown Point, N.Y. and Chimney Point, Vt.
The book was released on Nov. 4, just three days before the span was opened to vehicular traffic on Nov. 7 following an hour-long ribbon-cutting ceremony.
"We felt an obligation to bridge the states of Vermont and New York, along with the counties of Addison and Essex, by printing a book filled with the shared history of Chimney Point and Crown Point," said New Market Press Publisher Edward Coats. "After all, it's a commitment we make every week covering Lake Champlain community news in The Addison Eagle, the Times of Ti and six other weekly newspapers."
The 8.5-by-11-inch full-color glossy book includes 38 stories and more than 90 photographs and was produced by staff at the companies' New York and Vermont newsrooms. The collection of memories was designed to explore the history of the original 1929 bridge and the construction of the new one.
"This book is a tribute to all those who worked night and day through the frigid cold of our North Country winters and the blistering summer heat to restore the Lake Champlain Bridge," said Denton Publications Publisher Daniel Alexander. "None of us will ever cross this bridge without thinking of its importance to the people who live here and have come to depend so heavily on the strength of its existence."
The editorial of the "Lake Champlain Commemorative Book" honored Carl F. Peterson, editor of the Essex County News in Port Henry, N.Y., who wrote an editorial in 1923 that eventually led to the construction of the 1929 bridge. There is also a copy of Peterson's original editorial printed in the book so readers could see how it all started.
(Continued on Next Page)
Prev Next
Vote on this Story by clicking on the Icon