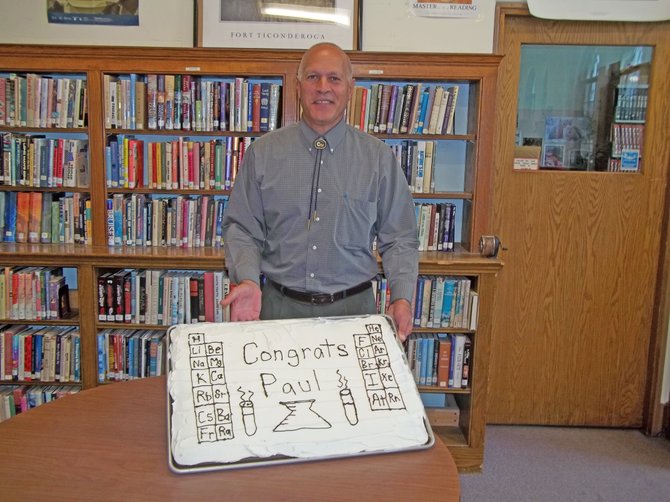 Ticonderoga — Fires, explosions, crashes are common occurrences in Paul Jebb's Ticonderoga High School science labs.
"If there's a fire or explosion it's a good class," student Brandon Russell said. "Mr. Jebb's classes are always fun."
And effective. Jebb, who teaches chemistry and physics at Ti High, has been named a 2011 Educator of Excellence by the New York State English Council for inspiring his students and colleagues.
"Paul is a consummate professional; a fantastic teachers," John McDonald, Ticonderoga Central School superintendent, said. "He's great with kids, has high expectations and goes out of his way to find opportunities for students. We're very proud of him."
Jebb was nominated for the award by Russell, student Nate Lenhart, Counselor Kristen Murphy and Ti High Principal Mike Graney.
Jebb is unlike other teachers, his students claim.
"His teaching style is very different," Russell explained. "He's not big on notes, mostly things are hands on. He lets you do things yourself and you learn by trial and error. He keeps you involved every day."
Lenhart agreed.
"It's important to him that we learn not only how things work, but why they work," Lenhart said. "He never gives us an answer, but he always gives us a way to find the answer."
Jebb, who will receive his award at a ceremony i Albany this month, is humbled by the recognition.
"It's a total surprise and I'm very appreciative," Jebb said. "I have wonderful support and great students."
Jebb, who has taught 11 years at Ti High after 16 years at Newcomb, feels hands-on learning is important in science.
"It's the nature of science that doing leads to learning; it lends itself to hands-on projects," he said. "I don't know how teachers in other subjects succeed; they only have words and numbers to work with. If I didn't have all the gizmos in my lab I'd be lost."
(Continued on Next Page)
Prev Next
Vote on this Story by clicking on the Icon