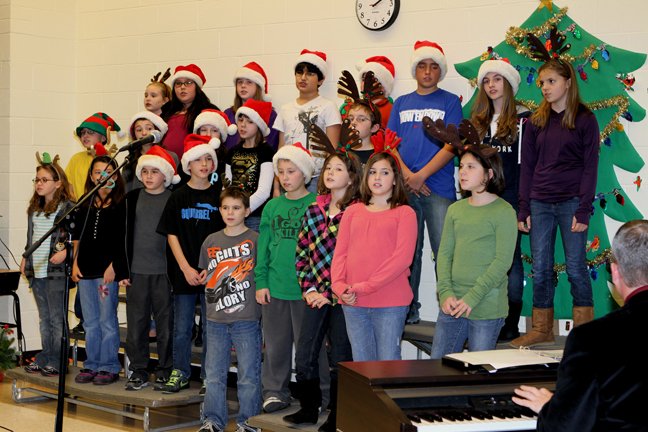 Ticonderoga — Downtown Ticonderoga visitors will be treated to the sounds of the holiday season during the community's "Shopping & Dining Night" Friday, Dec. 7.
Ticonderoga Central School music teachers Michael Iturrino and Jolene Harrigan will have students perform 5 to 8:30 p.m. throughout downtown.
Iturrino and Harrigan will also perform along with Brian Donat, a classically-trained cellist, at the Ticonderoga Area Chamber of Commerce office at 7 p.m.
"This is a very busy time for the music department with holiday concerts coming up and we are so thankful that they (students) are taking time to perform," said Allison Kaupelis of Best Western Plus, chamber vice president. "A very special thanks to the Ticonderoga school district and Michael Iturrino from the high school and Jolene Harrigan from the middle school for working so hard to put together special pieces to be played and orchestrating over three hours of music for the shopping and dining night."

"Shopping & Dining Night" will be feature participating businesses open until 9 p.m. offering discounts and promotions. Participating businesses will have a snowflake displayed.
The chamber office will be open until 9 p.m. serving complimentary refreshments sponsored by Stewarts Shops.
There will also be holiday gift wrapping at the chamber 5 to 9 p.m. provided by the Silver Bay YMCA Leaders Club. Donations will be accepted.
All 'Bout Critters will host "Holiday Crafts & Animal Antics" for children 5 to 9 p.m. Parents can leave their children while they shop and dine. The cost will be $5 an hour a child.
There will also be raffles provided by the Ticonderoga Montcalm Street Partnership.
Students taking part in the musical portion of the evening include Lindsay Jordan, Emma Bogart, Katherine Towne, Aubrey Smith, Lauren Dixon, Caitlin Myers, Summer Snyder, Saidi St. Andrews, Anthony Dushane, Dale Quesnel, John Cook, Tim Ryan, Zach McLoughlin, Mark Donohue, Michael LaFountain, Mya DeLong, Zara Al-Asmri, Alexis Santose, Mackenzie Strum, Susan Ward, Jamie Cox, Tomas Hendrix, Jake Crowe, Alyssa Rodriguez and Kaitlin Diskin.

(Continued on Next Page)
Prev Next
Vote on this Story by clicking on the Icon