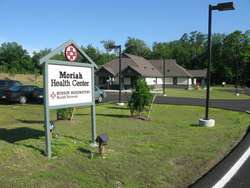 Mineville — Hudson Headwaters Health Network hopes to maintain a presence in the town of  Moriah for many years.
"We're pleased with our relationship with the town," said Trip Shannon, HHHN chief development officer. "It's been in the best interests of both parties."
Moriah Supervisor Tom Scozzafava agrees.
"It's been a good partnership," Scozzafava said. "They've made a commitment to the town of Moriah and we'd like to continue our commitment to them."
That's why the town and health care agency have started preliminary talks about extending Hudson Headwaters' lease at the town-owned health center.
The $1.2 million health center in the Moriah Industrial Park on Plank Road in Mineville opened in 2008. At that time the town and HHHN entered into a five-year agreement to provide health care and staffing at the facility. That deal, which expires in 2013, made the town responsible for all maintenance at the health center.
During the 2013 town budget preparation, Scozzafava approached HHHN asking for help with maintenance costs. HHHN agreed to pay $15,000 a year, about half the annual maintenance costs.
"We appreciate their willingness to help out," Scozzafava said. "They didn't have to do anything."
Shannon said Hudson Headwaters values the Moriah Health Center and wanted to assist the town.
"We agreed to help support it," he said. "We know Moriah is a town with a limited tax base. We want to do our part."
During the talks on maintenance costs, Hudson Headwaters asked the town board to consider a new lease — this one for 10 years.
"A longer lease will provide the town and Hudson Headwaters with stability," Shannon said. "It will provide assurity that will allow us to plan for the future."
Shannon said a long-term lease will allow HHHN to more easily recruit physicians and to make investments in technology at the Mineville facility.
(Continued on Next Page)
Prev Next
Vote on this Story by clicking on the Icon