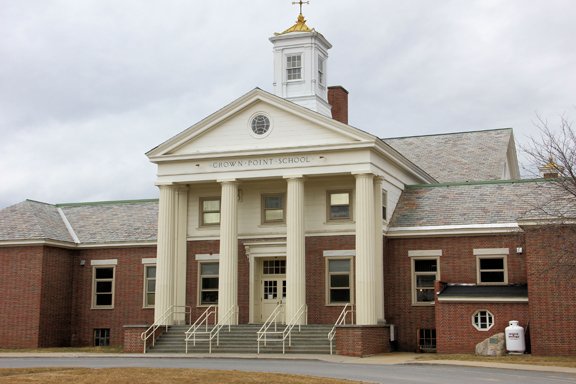 Crown Point — Volunteers are being sought to serve on a advisory committee investigating a possible consolidation of the Crown Point and Ticonderoga school districts.
"This is an opportunity for interested people to be involved in the process," John McDonald, Ticonderoga school superintendent said. "The committee will investigate the pros and cons of a merger, prepare a report and advise the two school boards."
The committee will include five community members, two teachers, a member of the support staff and an administrator from each district.
Interested community members are asked to contact their school superintendent before Dec. 21. McDonald can be reached at 585-7400 or jmcdonald@ticonderogak12.org. Crown Point Superintendent Shari Brannock can be reached at 597-4200 or brannock@cpcsteam.org.
The committee will be appointed by the respective school boards in January.
The initial committee meeting will take place at Crown Point school Jan. 30 and review enrollment. Other meetings will be March 6 at Ti High to study transportation, April 17 at Crown Point to discuss facilities, May 29 at Ti Elementary-Middle School to review finances, June 19 at Crown Point to discuss programs, July 24 at Ti High to consider staffing and Aug. 21 at Crown Point to adopt a draft report.
Each meeting will be at 6:30 p.m. preceded by a tour of the school at 5:45 p.m.
"Committee members should be available for all metings," McDonald said, "and realize there may be work involved between meetings."
The draft report will be submitted to the state Department of Education in September and presented to a joint meeting of the Ticonderoga and Crown Point school boards in October.
All the meetings will be open to the public and information relating to the consolidation study will be posted on the websites of both schools — www.ticonderogak12.org and www.cpcsteam.org
The districts have been awarded a $45,000 state grant to hire a outside consultant to help study the two schools. Once the study is complete, a series of votes will be required before any possible consolidation can take place. The earliest any consolidation can take place is July 2014.
(Continued on Next Page)
Prev Next
Vote on this Story by clicking on the Icon