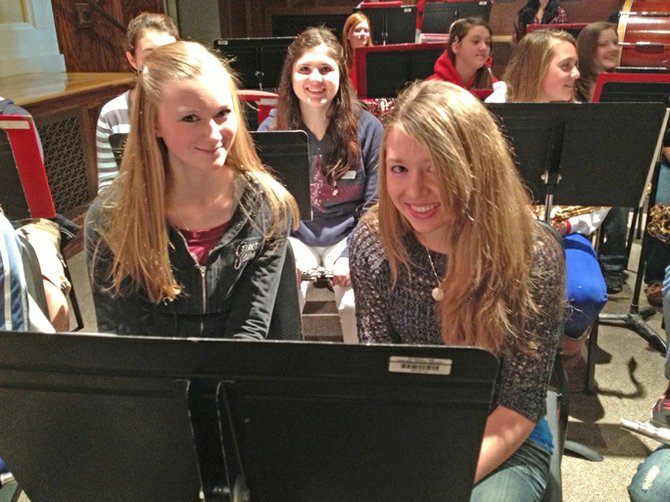 Schroon Lake — Schroon Lake Central School students presented the sounds of the season to the community during their annual holiday concert Dec. 14.
The show featured students from pre-kindergarten through the high school.
Taking part in the elementary pre-kindergarten to fourth grade sing-along were Skyler Anderson, Luke Armstrong, Morgan Graves, Teyah Graves, Elizabeth Grey, Justice Hurtado, Kaylee Keller, Lucas LaPerle, Andrew Masiello, Caden Pastore, Carly Smith, Cheyenne Tuttle, Issabella Tyrrell, Hannah Welch, Paige Wheeler, Drake Belrose, Owen Gillings, Maverick, Granger, Lilliana Hurtado, Waylon Mitchell, Brittany Mosley, Hannah Thompson, Matthew Tierney, Lacy Varela, Mical Armstrong, Hannah Beecher, Hunter Bessey, Paige Decker, Morgan Keller, Salman Khan, Zander Melo, Jace Moon, Tyler Moses, Martin Mosely, Gabriel Scoville, Felisha Tuttle, Madison Anauo, Blaise Bearor, Ashley Beecher, Wilden Bruce, Clayton Fish, Sierra Gregson, Julia LaPerle, Nikolas Marnell, Lauren Peace, Paul Provoncha, Caleb Ross-Tierney, Patrick Scoville, Saige Shaughnessy Izabella Slyman, Riley Smith, Aradia Talarico, Michaela Udes, Owen Anauo, Joelle Barrows, Yanden Cleveland, Ethan Fariss, Holly Gregory, Shelbie Rice, Emily Beecher, Dawson DeZalia, Melena Gereau, Oliver Higgens, Nimra Khan, Luc Stout, Jacklyn Thompson and Mikaela Varela.
The group was directed by Anita Masiello and accompanied by Jabe Claus.
Performing with the fifth and sixth grade band, directed by Mike Tracy, were Alysen Bruce and Kayla Cirigliano on flute; Courtney Lebel, Marcus Peace and Sienna Secor on clarinet; Grace Higgens, Michael Foote, Derrick Loiselle and Victoria Buell on saxophone; Khaleah Cleveland, Danielle Ramirez and Madigan Labatore on trumpet; Dustin Gregory on baritone horn; and Harrison Gereau, Kelsey Bevins, Cameron Mitchell, Cody Cirigliano, Megan McCallum, Amber Allen and Travis Fish on percussion.
The fifth and sixth grade chorus featured Victoria Buell, Alyssa DeCesare, Grace Higgens, Madigan Labatore, Megan McCallum, Sienna Secor, Lillian Slyman, Jacob Beecher, Travis Fish, Michael Foote, Harrison Gereau, Brett Herrick, Corbin Jung, Derrick Loiselle, Wyatt Mitchell, Malakhie Nolan, Cole Plumstead, Marcus Peace, Noah Udes and Kelsey Bevins.
(Continued on Next Page)
Prev Next
Vote on this Story by clicking on the Icon