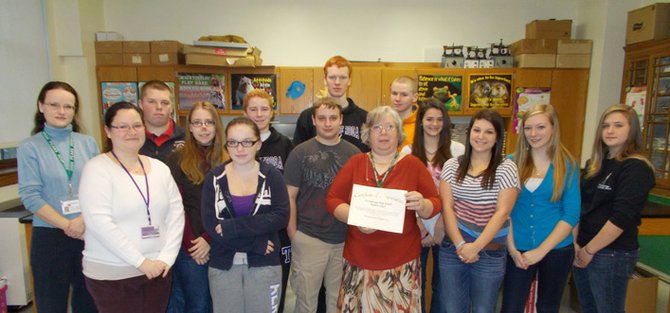 Ticonderoga — When High Peaks Hospice issued a challenge, Ticonderoga High School students answered.
The school's Student Voice, Ti High's version of student council, recently donated $100 to the end-of-life agency in response to a plea. During November, National Hospice Month, Mineville-based High Peaks Hospice & Palliative Care asked Essex County schools to help raise money for hospice. Six schools, including Ticonderoga, answered.
"It was a wonderful opportunity for community service," said Jennee Darragh, Student Voice adviser. "We've done benefits for the American Cancer Society in the past, so we were happy to help."
The Ti students raised the money during their annual homecoming dance.
"We're more more than pleased," TylaAnn Burger, hospice executive director, said of the donation. "We're absolutely delighted these young people have decided to support hospice. It's unusual, but most welcome."
Ingrid Roemischer, hospice development and outreach coordinator, joined Burger in presenting certificates of appreciation to the Ti students recently.
"This fundraising will help fund HPHPC's effort to give top quality supplies, support and services to our patients and patient families to improve quality of life," she said.
High Peaks Hospice & Palliative Care is a not-for-profit health care corporation that provides end-of-life care.
"Every day there are 50 families receiving services," Burger said. "I say families. We just don't serve the individual who is ill. When someone is ill it affects an entire family."
High Peaks Hospice serves about 250 families a year, Burgher said. In the last 25 years it has served about 6,000 families in the North Country.
Hospice is covered under the Medicare Hospice Benefit. No one is denied service because of inability to pay.
When a doctor gives someone six months or less to live, they often have the option of staying in a hospital and receiving treatment. High Peaks Hospice can offer the patient, and the patient's family, other options.
The purpose of hospice is to offer support and to make a person's last days as comfortable as possible.
High Peaks Hospice staff members become as involved as the family and the patient would like them to be. Hospice will come to a person's home, nursing home or hospital.
Staff can visit daily or weekly, depending on a patient's wishes, and can perform tasks that range from simple conversation to helping take care of the patient.
For information on hospice care, volunteering or to make a donation, visit www.highpeakshospice.com.
Vote on this Story by clicking on the Icon