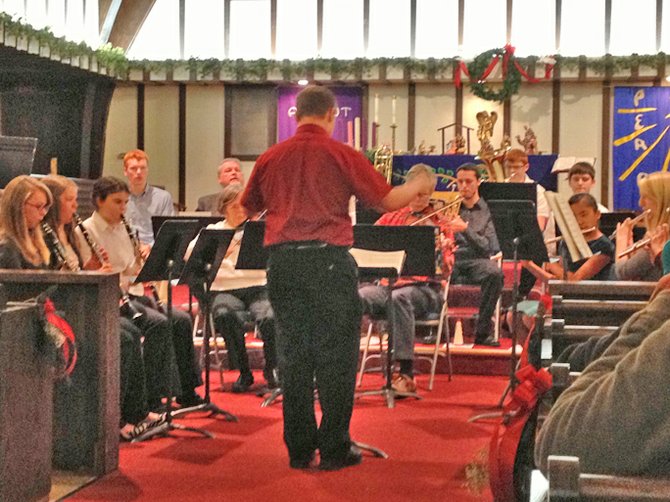 Ticonderoga — Community spirit was on display at the annual Tiny Tim Christmas Wish concert recently.
Area musicians gathered to present holiday music to a capacity audience at the First United Methodist Church as donations were accepted to support the Tiny Tim program, which provides Christmas gifts to needy children living in the area.
"Tiny Tim is an important aspect of our community; it's one of the things that makes our community special," said David Cornell, Tiny Tim spokesman. "There's a recognition that, for whatever reasons, there are times people are in need. They are our neighbors and our neighbors' children."
Tiny Tim served 80 families and 200 children in 2012, Cornell noted.
"It's a major effort to address our mission this year," he said. "It's so gratifying that the people we call upon support out program."
The annual concert featured the Champlain Valley Community Band, the Ticonderoga High School Night Shadows, the Ti High brass ensemble and the Ti High Sentinel Big Band.
The community band featured adults and students performing together under the direction of Dale Quesnel III, a Ti student.
"It's one of the things that distinguishes our community," Cornell said of the band. "It's a place where kids and adults come together to play music and learn from one another."
The community band included Malinda Chapman, Haley Hearburg, Lillitha Ida and Katherine Towne on flute; Willa Shakeshaft, Mackenzie Strum and Susan Ward on clarinet; Bob Rockwell on bass clarinet; Glen Chapman and Pat Cornell on violin; Colvin Chapman on trombone; Riley Chapman, Joel Cook, John Cook, Bob Johnson, Drew Malone and Erick DuShane on trumpet; Stephen Bartlett, Dakota Gilbert and Skyler Gilbert on alto sax; Michael LaFountain on baritone; and Tyler Morse, Karney Manning and Samuel Shelmidine on percussion.
Singing in the Night Shadows male choir were Colvin Chapman, Riley Chapman, Anthony Costello, Matt Cook, Zech McLoughlin, Marcus Moser, Stephen Bartlett, Jacob Crowe, Nicholas Fritz, Skyler Gilbert, Michael Graney, Cody O'Hara, Karney Manning, Mark Donohue, Jay Hebert, Tomas Hendrix, Martin Glazer, Tyler Morse, Tim Ryan and Jordan Woods.
(Continued on Next Page)
Prev Next
Vote on this Story by clicking on the Icon