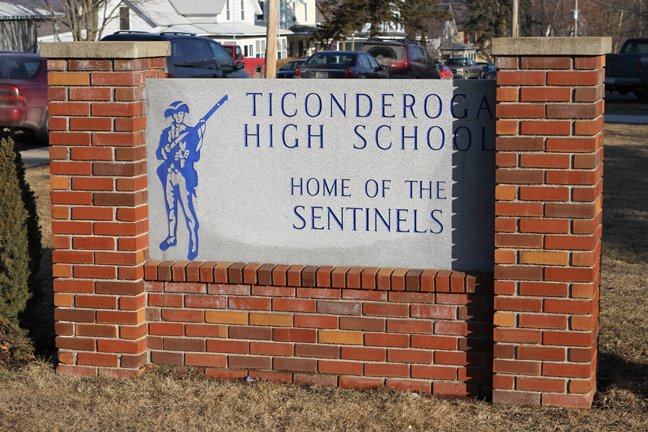 Ticonderoga — Ticonderoga High School has a new principal.
Paul Berkheimer, who retired last June after 32 years as principal at Jackson Heights Elementary School in Glens Falls, has been appointed as interim principal by the Ti school board.
Berkheimer will hold the job through June while the district searches for a permanent replacement for Mike Graney, who resigned as Ti High principal to accept a similar position at Bolton Central School.
"I was looking for a place similar to Jackson Heights; I felt very comfortable when I visited Ticonderoga," Berkheimer said. "It seems like a great place to spend the next six months. I've met most of the staff and adminstration and everyone is very welcoming."
Berkheimer taught elementary school for 10 years in suburban Philadelphia before becoming principal at Jackson Heights.
"Somehow I landed in the right spot and I was smart enough to stay there," Berkheimer said of his tenure at Jackson Heights. "It's a wonderful school."
John McDonald, Ti school superintendent, is pleased to have Berkheimer on broad.
"We feel he will do a great job getting us through the year and will provide stability in Mr. Graney's absence," McDonald said.
The search for a permanent high school principal will begin in February or March, McDonald said.
Graney will become principal at Bolton Central School Jan. 1.
"This is a very difficult decision," said Graney, who has been Ti High principal the past 11 years. "I've learned a lot and enjoyed my time here tremendously. It's really just a matter of seeking out new challenges.
"I know many people in Bolton and admire their (school) district," he added. "It feels like a nice fit for me personally and professionally."
McDonald said Graney will be missed.
"Mike has done a fantastic job as principal," McDonald said. "He has worked hard to become an educational leader and has been instrumental in developing new programs, most recently the marine technology and alternative high school.  Mike has also helped set the standard of high expectations which has led to our top 2 percent ranking in U.S. News and World Report. 
(Continued on Next Page)
Prev Next
Vote on this Story by clicking on the Icon