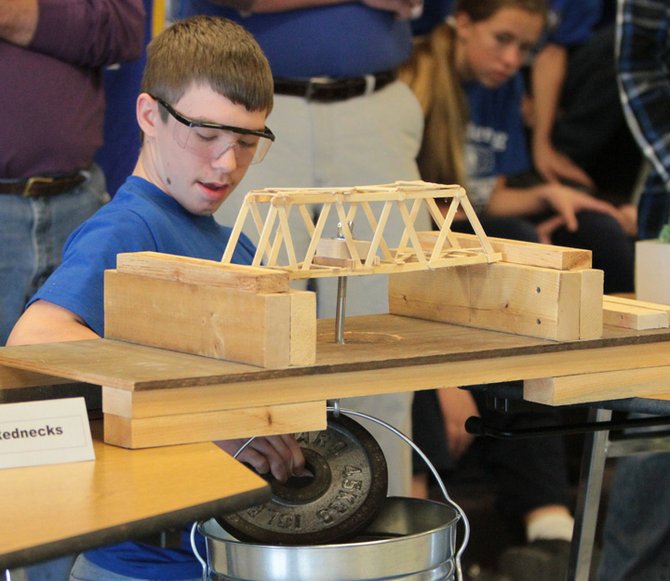 Ticonderoga — Future engineers showed their skills during the annual Ticonderoga Kiwanis bridge building contest recently.
More than 30 students from Ticonderoga Middle School, Ticonderoga High School and St. Mary's School in Ticonderoga competed to see who could construct the strongest bridges.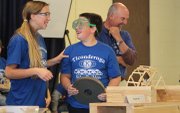 John Donohue, Ticonderoga Middle School principal, welcomed students.
John McDonald, Ticonderoga school superintendent, also addressed students. He noted that engineering can be a rewarding career and pointed out several students from previous competitions who are now enrolled in engineering colleges
"The middle school students built model bridges out of popsicle sticks during a 1 1/2 hour time limit and then loaded a bucket suspended from their bridge with weights until the bridge collapsed, resulting in some tremendous displays of shattering popsicle sticks," said Graham Bailey of the Kiwanis. "Over half of the middle school/St. Mary's bridges carried over 50 pounds before breaking."
Awards were presented for aesthetics and bridge efficiency — weight of the load in pounds the bridge carried prior to failing divided by the bridge's weight in grams.

Team Big Buck of Ti Middle School was the most efficient middle school bridge, carrying a record load of 170 pounds. Trevor Parent constructed the span.
Team Real Tree, composed of Zach Parent and Dustin Hunsdon, was second. Team ZNHL, Cara Sanchez and Nicole Tucker, was third.
Middle school aesthetics awards went to Kathleen O'Neil and Ronnie O'Neil, of St. Mary's in first place with Team ZNHL, Cara Sanchez and Nicole Tucker, second. Team Big Buck, Trevor Parent, and Team e=c2, Cassie Reale, Emily Pike and Christina Simpson, tied for third.


"The high school students designed and built their balsa wood bridges as part of Paul Jebb's physics class," Bailey explained. "The high school bridges were also judged for efficiency and aesthetics. Five teams of students competed in this year's contest. The most efficient high school bridge weighing but 5 ounces carried a staggering 260 pounds, which was the strongest bridge since the program began five years ago."
(Continued on Next Page)
Prev Next
Vote on this Story by clicking on the Icon