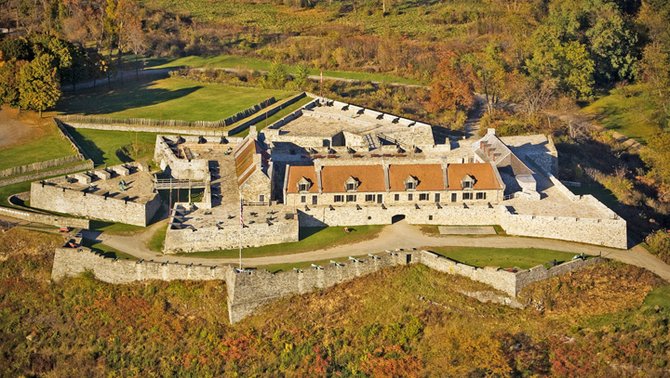 Ticonderoga — A Massachusetts man is the 2012 Fort Ticonderoga Volunteer of the Year.
Sigmund Podlozney of Lowell, Mass., earned the honor for his work in the interpretation department. He demonstrated tailoring in the Artificer's Post and performed 18th-century divine services based on research from period services.

"Mr. Podlozney's contribution of 436 hours of volunteer service was a magnificent gift that greatly enriched Fort Ticonderoga's mission and programming in 2012," said Beth Hill, Fort Ticonderoga president and CEO. "He made a significant and very positive impact on the visitors experience this past year and was a tremendous advocate for Fort Ticonderoga's mission in the community."
Stuart Lilie, Fort Ticonderoga's director of interpretation, also praised Podlozney.
"Mr. Podlozney, a retired Congregational minister, had recreated various characters from the American Revolution since the bicentennial," Lilie said. "With portrayals as diverse as ships captains to Rev. Benjamin Balch, Sigmund was particularly engaged by Fort Ticonderoga's commitment to authenticity in living history programs. He was very eager to be a big part of the fort's portrayal of 1775."
Fort Ticonderoga volunteers gave more than 14,000 hours in 2012 in areas including interpretation, horticulture, education, development, collections, and buildings and grounds, Hill said.
Podlozney earned the highest status in Fort Ticonderoga's Volunteers Count! rewards program and joins 13 others who reached the platinum award level by contributing more than 51 hours of service.

The volunteer rewards program was initiated in 2012 and allows volunteers with 11 or more hours donated to earn a Volunteer Ambassador Pass granting free general admission for the season as well as other benefits.

People interested in volunteering at the fort can go the fort's website at www.FortTiconderoga.org or by call 585-2821.

The Fort Ticonderoga Association, a not-for-profit educational organization, operates the fort. Open to the public since 1909, Fort Ticonderoga is the earliest restoration of its kind in the United States. It preserves North America's largest 18th-century artillery collection, 2,000 acres of historic landscape on Lake Champlain, Carillon Battlefield and the King's Garden.
Fort Ticonderoga attracts more than 70,000 visitors each year, and annually reaches more than 5,000 people in outreach programs.

Fort Ticonderoga is accredited by the American Association of Museums and pursues its vision to be the premier military historic site and museum in North America.
Vote on this Story by clicking on the Icon