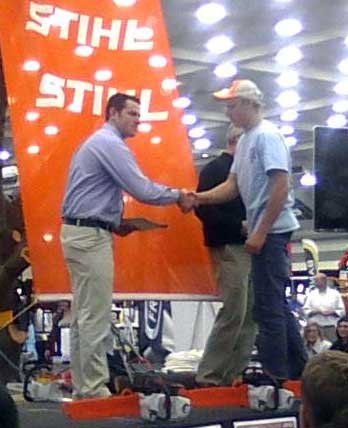 Mineville — Tyler Snyder of Mineville, a student at Northlands Job Corps Center, recently won the forestry competition at the Tree Care Industry Association Expo in Baltimore.
Snyder has been a student at Northlands Job Corps Center in Vergennes, Vt., since May. He is enrolled in the urban forestry trade, a trade that focuses on training students to complete tree work over houses and in backyards the correct way and safe way. Snyder is learning to assess the strength and integrity of trees and the hazards associated with setting up a rope to climb and perform work orders. The class also teaches students how to operate and maintain chainsaws, chippers and introduces them to bucket truck operations.
Snyder and four other students attended the Tree Care Industry Association Expo in Baltimore. The students were in attendance with their instructor, Jeremy Riemersma, who is also of Mineville. Riemersma has been teaching at Northlands Job Corps for the past eight years.
The expo is the world's largest trade show where equipment manufacturers and employers come together to show off and recruit.

Snyder was entered into a Student Career Days Competition where he won first place overall. Snyder received a chainsaw and certificates to redeem at the local saw shop. He won three out of five domains in addition to the overall top place.

The other students also took first in the other two domains and second and third overall.

The five students went up against other schools such as Milwaukee Technical College, Warren Wilson and Virginia Tech.

On the final day of the expo Snyder attended a breakfast job fair where he was recognized.
The National Job Corps Program has been in place since 1964. Northlands Job Corps Center has been established in Vergennes, Vt., since 1979. All participants are between 16 and 24 years old.

Job Corps is a free education and training program that helps young people learn a career, earn a high school diploma or GED, and find and keep a job.
Vote on this Story by clicking on the Icon