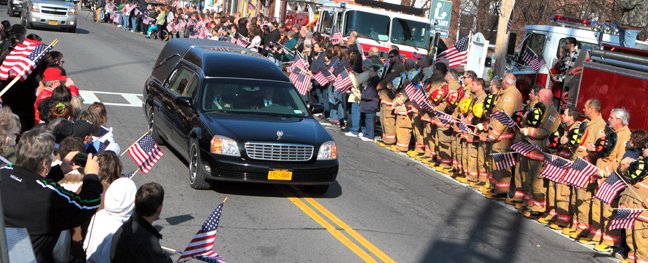 Port Henry — The brilliant autumn afternoon belied the somber mood in the town of Moriah Nov. 11 as hundreds of people turned out to welcome home the body of native son Dain Venne.
Staff Sgt. Venne, age 29, of Port Henry was killed in Paktiya Province, Afghanistan, on Nov. 3, according to the U.S. Department of Defense.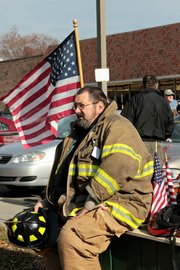 He is the son of Brian and Laura (Harris) Venne. Brian Venne is Moriah town justice and a former town trustee. Laura Venne is a teacher at Moriah Central School.
People, fire trucks, television crews and American flags lined Main Street Port Henry as Venne's body came home.
Firefighters from Port Henry, Moriah and Mineville-Witherbee were joined by the Ticonderoga Fire Department as fire trucks lined both sides of the street. Venne was a member of the Port Henry department.
Also on site was the MacBoston 18 Truck. The truck is an inspirational and memorial vehicle in tribute fallen firefighters from the area. Mac is in memory of firefighter Paul MacMurray of Hudson Falls; Boston refers to the city of Boston, where the truck was purchased; 18 was MacMurray's badge number. The vehicle also honors Brian Meyers Sr. of Schuylerville.
"It's something no one wants to do, but something we have to do for a hero like Dain Venne," the Rev. David Hirtle of the First Congregational Church in Crown Point said of the procession. "I'm pleased to see so many people."
People came from all over to pay tribute to the fallen soldier, including members of Barneveld Fire Department.
Chief Brian Healey said his men made the nearly three-hour trip from the Utica area at the request of an absent member.
"One of our firefighters, John Gates, is in Afghanistan and served with Dain," Healey said. "He contacted us through Facebook and asked us to represent him today. He thought Dain was a great guy, a great friend. We're glad we can make this gesture."
(Continued on Next Page)
Prev Next
Vote on this Story by clicking on the Icon