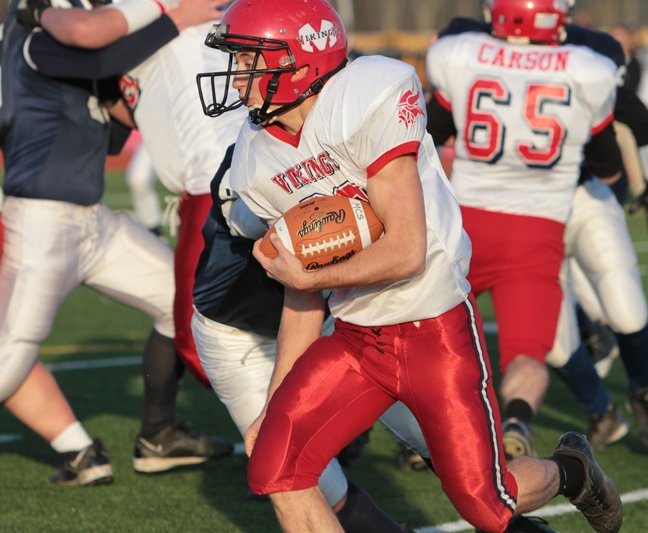 Cross country
Ticonderoga raced to fifth place at the New York State Public High School Athletic Association Class D boys cross country championship at Elma Meadows Nov. 10.
Photo Gallery
Moriah v.s. Rensselaer football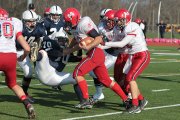 Rensselaer won against Moriah with a final score 50 to 0
The Sentinels, who won the Champlain Valley Athletic Conference and Section VII CLass D championships this fall, were led by Tyler Belden's 22nd place finish.
Javeed Nazir was 28th, Shawn Silliman 32nd, Kody Parrott 75th, Jacob Young 76th, Martin Glazer 109th and Milo Stricker 113th.
Ticonderoga also had three runners in the girls championship race, each earning at-large berths in the Section VII meet.
Naomi Forkas led the Sentinels at the state championships, finishing 58th. Hannah Herbst was 96th and Markie teReile was 104th. It was the third trip to the championship meet for Herbst and teReile.
Herbst was also honored at the race, being named the Section VII Class D sportsmanship winner by a vote of coaches.
Football
Moriah eliminated
A very difficult week had a disappointing ending for the Moriah football team.
The Vikings lost to Rensselaer, 50-0, in the quarterfinals of the New York State Public High School Athletic Association Class D football tournament Nov. 10 in Schuylerville.
The setback came a week after the Moriah community learned of the death of Dain Venne, a former Viking player, who was killed in Afghanistan while serving with the Army.
Moriah played tough for a half. The game was scoreless after one period and Moriah trailed just 12-0 at the intermission.
The the sky fell. Rensselaer exploded for 25 points in the third period to break open the contest.
Rensselaer dominated the game, rolling up 439 yards of offense. Its balance attack had 233 on the ground and 206 through the air. The Ram defense held Moriah's running game, its bread and butter, to 38 yards on 37 carries.
Moriah managed five first downs, four on its final drive. The only other first down came on a pass interference call against the Rams.
(Continued on Next Page)
Prev Next
Vote on this Story by clicking on the Icon