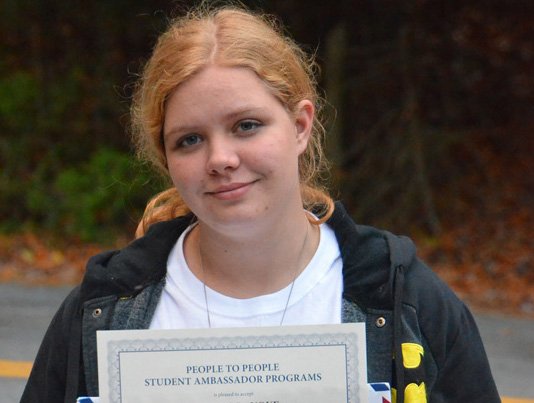 Schroon Lake — A Schroon Lake teen has been named a People to People Student Ambassador.
Desiree Lanoue, 16, has been seelcted for the program, which was founded by President Dwight D. Eisenhower in 1956.
"During the summer of 2013, I will join a delegation of students my age on a 22-day educational program that includes Fiji, New Zealand and Australia," Lanoue said. "President Dwight D. Eisenhower founded the People to People movement because he believed that ordinary citizens of different nations could solve their problems and live harmoniously with one another through shared experiences and understanding."
While in on the trip Lanoue will have an opportunity to meet with government officials and other teens. She will stay with host families while taking part in a series of educational programs.
"Our curriculum will teach us about history, culture, architecture, art, conservation, geology, oceanography and political science in the areas we visit," Lanoue said. "My dream has always been to become a marine biologist and during this trip we will be working alongside a team of marine biologists and we will be going to the Great Barrier Reef where studies are being done on the decline of coral.
"I am looking forward to the experience of working with the marine biologists and hoping that it will allow me to decide upon my future career," she added. "We will be led by experienced teachers as we engage in a wide variety of cultural encounters and adventures; we will interact with a city council member at the Rotorua Council Chambers and learn about the local government, engage in a reforestation project in Fiji and encounter several rare species of birds on New Zealand's sacred Mokoia Island."
Lanoue said it will be the experience of a lifetime.
"After all, there is no better way to learn about different cultures and careers than to experience them firsthand," she said. "Among these rare experiences we are also going to have fun while learning about local sports and experiencing Maori culture. Needless to say, this is a wonderful opportunity and I am extremely excited."
(Continued on Next Page)
Prev Next
Vote on this Story by clicking on the Icon