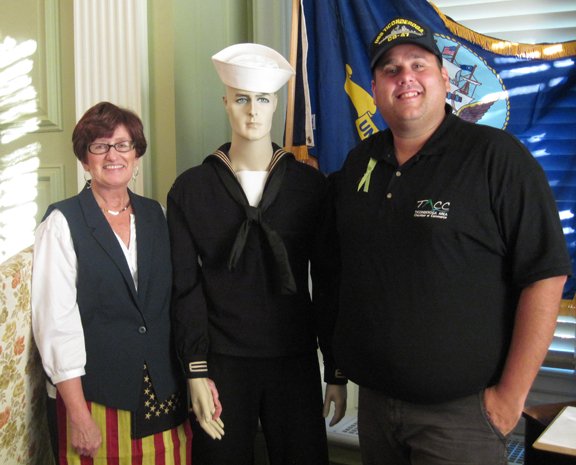 Ticonderoga — Plans are already being made for the 2013 "Night at the Museum."
The second annual event, hosted by the Ticonderoga Area Chamber of Commerce and Ticonderoga Historical Society, is being hailed as a success.
"I would like to thank June Curtis, Beth Iuliano, Eddie's Restaurant, Bill Dolback, TACC board members, the Ticonderoga Historical Society and all of the sponsors of this great event," said matthew Courtright, chamber executive director. "I would also like to extend thanks to all those in attendance for their support.
"We hope this event will grow each year in attendance to support the efforts of the chamber and the historical society," he added. "It is a pleasure working with June, Beth and Bill on this event. This is a fantastic event and all we invite you to attend the third annual event on Thursday, Sept. 26, 2013."
The event, held at the Hancock House, featured appetizers and desserts, beverages, live music, a scavenger hunt, games of chance, a small silent auction, history lessons and special exhibits of the USS Ticonderoga.
The theme for this year's event was the "USS Ticonderoga Sets Sail."
Also supporting the "Night at the Museum" were Eddies Restaurant, Best Western Plus Ticonderoga Inn & Suites, Frenchy's, June Curtis, The Lake Champlain Inn B&B, Melinda and Glen Chapman, Rathbun Jewelers, Sugar Hill Manor B&B, Ticonderoga Country Club, the Wagon Wheel Restaurant, HerbAnna Farm and Lonergan's Antiques.
The scavenger hunt, created by Curtis, gave participants a chance to learn about the USS Ticonderoga.
"There were five ships names Ticonderoga ranging from a schooner to an aircraft carrier," Curtis said. "The first of the five U.S. Navy vessels to bear the name of Ticonderoga was built in Vergennes, Vt., rendered gallant service in the Battle of Plattsburgh in 1814 and now resides at the Skeensbourugh Museum in Whitehall."
(Continued on Next Page)
Prev Next
Vote on this Story by clicking on the Icon