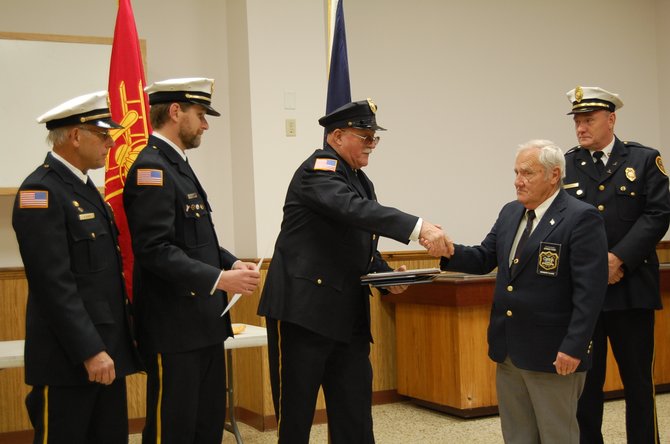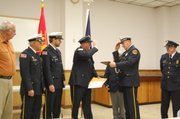 Moriah — The dedication of 53 years of standing in roadways on cold nights directing traffic and curious bystanders; waking in the middle of the night to run off to a fire or emergency, and years of devotion to protecting the people of the Moriah Fire District were recognized in a special ceremony for Fire Police member William "Bill" Wykes Nov. 15.
Wykes was presented with three awards by Deputy Fire Coordinator Herb Clark as fire department officers Bill Trybendis, president of fire department commissions, George Harrington, fire department treasurer, Brian Glebus, fire department chief, Ed Roberts assistant fire department chief and first department assistant chief Dave Decker looked on.
Wykes began his career with the department as a fire fighter and three years later joined the fire police.
Wykes said he joined the department because at the time "everyone did, just like my father was in it before me."
Over the past 53 years, Wykes said he has kept going to the calls as both the faces of the department and the equipment have grown and changed.
"We didn't have all the equipment we do now. It has gotten a lot better and today we have a lot more members who are a lot better trained," Wykes said.

When he first started working with the department, Wykes said the training was very real.
"Most of my training was on scene and on-the-job," Wykes said.
New members now are required to complete 23 hour trainings, HAZMAT trainings, must attend night classes, all while maintaining full-time employment, according to Harrington.
Wykes was presented with a certificate of appreciation from the New York State Fire Department Association, a proclamation honoring Wykes for his 53 years of service, and a letter of appreciation for outstanding service from Moriah Supervisor Tom Scozzafava.
"Your exemplary commitment as well as your devotion to mankind in protection of life and property are sincerely appreciated and will always be remembered," Scozzafava wrote. "I would like to thank you for giving 53 years of service to the town of Moriah Fire Department."
Wykes remains an active member of the fire department and said he has no plans to stop anytime soon.
"I'm glad I've got some nice people to work with," Wykes said. "I'm very proud."
Vote on this Story by clicking on the Icon