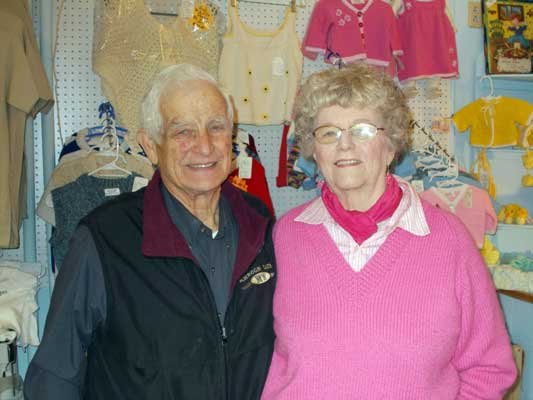 Schroon Lake — After years of community service, Lorraine Erikson is doing something for herself.
Erikson is operating Lorraine's Boutique at The Marketplace in Schroon Lake.
"I've retired (from community service), but I wanted to stay busy," she said. "I thought this works well with my hobby and hopefully I can make a little spending money."
Erikson has been knitting for 65 years. About six years ago she began selling her knit items at the Morningstar Bistro in town.
"I've knitted for years," she said. "I knitted for all my children, grandchildren and great-grandchildren. I make everything — sweaters, hats, mittens, you name it. People really seemed to like my sweaters, so I kept expanding."
Enjoying strong sales, Erikson decided to lease the building at 1095 US Rt. 9, Schroon Lake's main street, and open her own business.
"As soon as I opened a bunch of people came in with their own things and wanted to sell them," Erikson said. "I decided to take things on a consignment basis."
Lorraine's Boutique at The Marketplace now has merchandise from 16 different local vendors. It sells knit and crochet clothing, T shirts, fashion clothing, scarfs, Adirondack furniture, holiday centerpieces, bird houses and a wide variety of other items. There's a Christmas Nook for the upcoming holiday season.
"People are surprised to see how many interesting things we have to sell," Erikson said. "Most people spend a half hour to 45 minutes just looking around because we're so diverse."
The shop even has nickel candy, fudge, ice cream and soda, which are popular with children.
"I have nickel candy, which nobody has anymore," Erikson said. "Children are very content here while their parents browse."
Lorraine's Boutique at The Marketplace is open May 1 through Dec. 31. It is now open 10 a.m. to 4 p.m. Thursday, Friday and Saturday. People can call 532-7274 for information.
Erikson is well known in the community for her years of volunteer service. She has been named Citizen of the Year by the Schroon Lake Chamber of Commerce and the Senior of the Year by the Schroon Lake Senior Citizens Club. She served as chair of the Schroon Lake Association arts and crafts fair for 10 years and served five terms as president of the senior citizens club. She's also active in the Schroon Lake Community Church.
Vote on this Story by clicking on the Icon