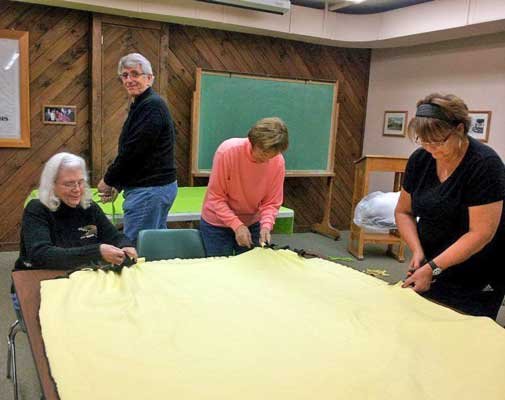 Schroon Lake — A team of about 16 Schroon Lake-area women have worked together on two separate days to make special tie-knot fleece blankets to send to local servicemen and women overseas during the holiday season.

They each signed Christmas cards to go with the colorful blankets, some done by the Schroon Lake Central School children.

They completed 25 blankets. The effort was organized by Joe and Michele Avignone and all were welcome to come and help.

Organizers are now seeking names and addresses of local servicemen and women to send the blankets. Names and addresses can be sent to Betsi Calhoun at betsic@wol.org
Taking part in the project are Kathy McCoy, Tina Plumstead, Diane Leah, Betsi Calhoun, Cathy Farris and Michele Avignon.
Vote on this Story by clicking on the Icon