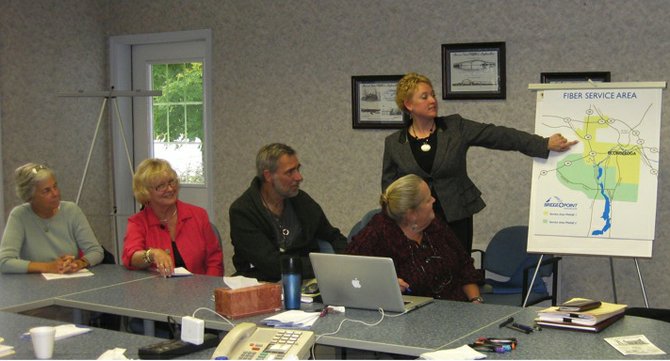 Ticonderoga — The Ticonderoga Revitalization Alliance isn't going away. That was the message delivered during the group's steering board meeting recently.
Citing financial concerns, the alliance laid off its chief operating officer in August, but the outlook was bright as the economic development group gathered its quarterly meeting in September.
"We're focused on key projects with high impact on the Ticonderoga area," said Chattie Van Wert, alliance director. "We have the ability to bring the right partners together to make significant contributions to restoring economic prosperity to the Ticonderoga area. I'm amazed by the active cooperation of all of the partners that are ready to step up and work together to make a major impact. No one individual, organization or group can do it alone. When we all work together it will happen."
About 60 business, civic and town representatives attended the meeting. Presenters included North Country Community College, International Paper, National Grid, Aubuchon Hardware, Adirondack Meat Co., Fort Ticonderoga, Silver Bay YMCA, Bridge Point Communication, Ticonderoga schools, Inter-Lakes Health, PRIDE and the JASAMA Real Estate Group.
"I've owned businesses and real estate in Ti for a long time, and I can't remember a time when I've been so encouraged about the future of this town," said Jim Major, alliance chairman. "Look around the room. North Country Community College is expanding. Aubuchon Hardware is expanding. We're getting a fiber optic broadband pipeline to support business expansion. National Grid is here telling us about grants and system upgrades to help us attract new businesses. We've got a number of projects in the works to develop new businesses and residential living in the downtown area. And let's not forget the new vocational programs in the school system, new after-school programs and the expansion of our tourism, arts and cultural offerings. We're going to see the impact of these projects in the coming months."
(Continued on Next Page)
Prev Next
Vote on this Story by clicking on the Icon