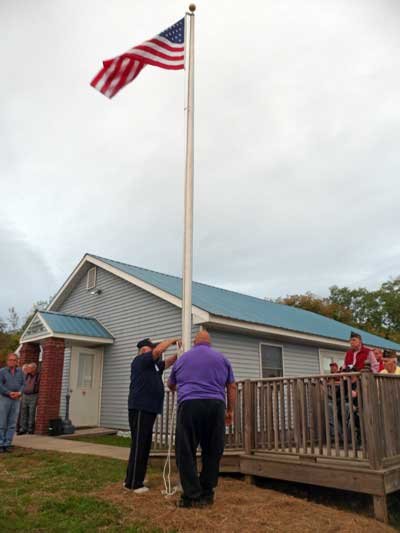 Ticonderoga — Veterans of Foreign Wars Post 0146 recently held its annual dinner and celebrated its 65th anniversary at the post on Shore Airport Road with Dawn Millington and members of the Fraternal Order of Eagles preparing and serving the dinner.

Charles "Gusher" Smith, Tom Burns and Tony Difebbo, three of the oldest members, were present. Smith is one of the original members of the post.

Organizations and individuals that have donated to or supported the post were recognized.

Nichlaus Moore from Woodmen of the World officially presented the flagpole and American flag that they donated to the post during a short ceremony prior to the dinner. International Paper was recognized for donating the flagpole that the post's flag is displayed. The members thanked the public for all of the cans and bottles donated at the transfer station, Rogers Rock and Putnam Pond campgrounds.
Veterans that served in campaigns or conflicts and received hostile fire pay are eligible to join the VFW. People who would like more information can contact a current member or call the post at 585-9282 and leave their name and number so someone can call back.
Vote on this Story by clicking on the Icon