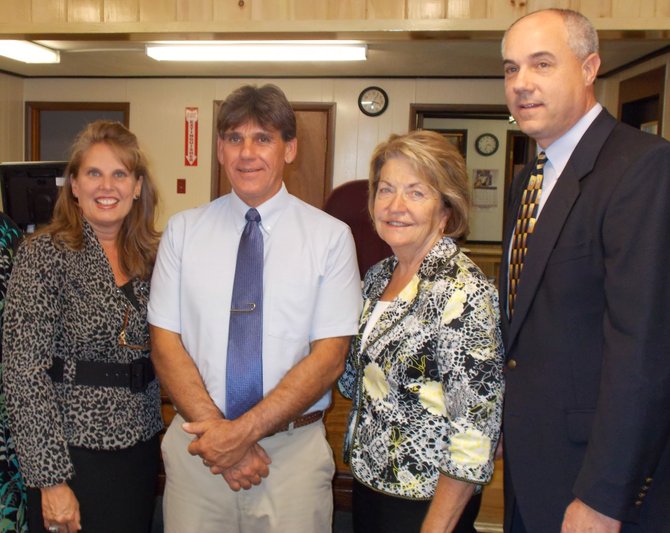 Port Henry — The town of Moriah's new court house will be used as an example for future court projects in New York State.
The Moriah court, which was expanded and renovated by Champlain Valley Tech students, is an outstanding example of shared government services and innovative thinking, according to Nancy Sunukjian, acting director of the state office of justice court support.
"We are always looking for ways to advise local courts on better ways to do things," Sunukjian said. "This is a great idea that we can use as a template for other towns. This is something we can, and should, replicate statewide."
Sunukjian was joined by other state, county and local officials in a tour of the new facility recently.
The project, originally expected to cost $170,000, was completed for about $50,000, according to Moriah Supervisor Tom Scozzafava. Most of that expense was covered by a $42,000 grant from the Justice Court Administration Program, which is overseen by Sunukjian.
"It's very impressive; it's a real success story," Sunukjian said. "It looks fabulous and I hope it'll encourage other towns to make requests for funds. We want to help our local courts."
There are 1,100 town and village courts in New York, Sunukjian said. About 400 received JCAP funds in 2011.
Champlain Valley Tech students constructed an 864 square feet addition on the Moriah court, helping the town meet a state mandate and giving the community an updated structure.
New York State had mandated court expansion in Moriah since 2008.
The town had plans to erect its own modular building to house its court and police department adjacent to the town hall at Park Place in Port Henry. That project was shelved when the cost soared.
Town trustees then considered several short-term solutions to the court situation, before deciding to ask CV Tech to construct an addition.
(Continued on Next Page)
Prev Next
Vote on this Story by clicking on the Icon