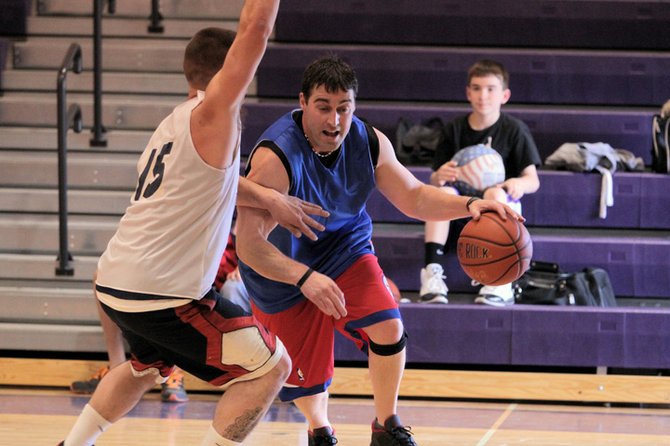 Ticonderoga — Ticonderoga High School basketball stars of yesteryear will return to the court in an attempt to recapture past glory — and help the community's annual July 4th celebration.
The annual Ticonderoga Alumni Basketball Tournament will be played Saturday, March 23, at Ti High. It will again benefit the Ticonderoga "Best Fourth in the North" celebration.
"For over a decade the basketball alumni have gathered at the Ticonderoga High School to help support the 'Best Fourth in the North'," said Bob Dedrick, tournament organizer and a former Ti High coach. "This year is no exception.
"Alumni who have graduated in the 1980s to the most recent grads all converge at the gym to renew friendships, relive memories, get a chance to pit their skills against other graduates and help raise funds for the Fourth of July celebration," he said.
The 2012 alumni tournament raised $630 for the "Best Fourth in the North."
This year's event will begin at noon. All players are asked to arrive at 11 a.m.
The day will feature four games with the last game for the championship. Teams are determined by the year of graduation.
"This allows graduates to compete with players who were on the roster while in high school," Dedrick said. "Each game is closely contested, where youth usually competes against experience."
A three point contest elimination round will start at 11:45 a.m. with the finals held prior to the championship game.
In 2012 the senior team, graduates from 1983-94, won the event. The championship group included such past stars as Gary Manning, Mike Graney, Bob Dedrick, Mike Bresett, Jamie Rockhill, Fred Merrill, F.P. Tierney and Matt Cossey.
The runner-up junior squad roster included such greats as Dan Shaw, Rosario Gallo, Joe Burris, Joe Defayette, Bill Treadway, Brian Little, Adam Porter and Jamie Burris.
The players from 2004 to 2008 won the consolation game. It featured Paul LaPointe, Colin Webber, Steve Burris, Hunter Denno, Jason Boutelle, Andy Kuhl, Brendan Graney and Devon Slattery
(Continued on Next Page)
Prev Next
Vote on this Story by clicking on the Icon