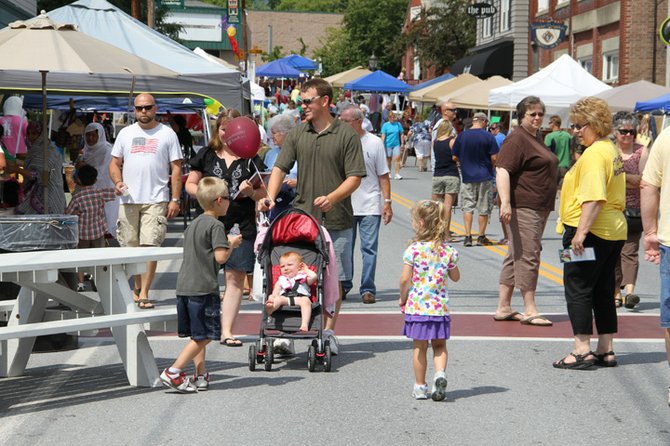 Ticonderoga — StreetFest is months away, but plans are being developed for the fifth annual event.
"We invite the community, area visitors, businesses and vendors to join us for the fifth annual StreetFest," Bob Dedrick, StreetFest co-chairman, said. "The committee is already working hard to coordinate the event as well as add new aspects as we continue to grow this wonderful event for Ticonderoga."
Sponsored by the Ticonderoga Montcalm Street Partnership, StreetFest will be held 10 a.m. to 3 p.m. Saturday, July 27. The event is held on Montcalm Street, which is closed to traffic for the day.
StreetFest will include food, sidewalk sales, street vendors, arts and crafts, music, children's activities, vintage cars and more. Admission is free.
"The StreetFest committee is in the process of registering vendors for the 2013 celebration," Dedrick said. "If you are interested in being a vendor in 2013 contact the Ticonderoga Area Chamber of Commerce for an application. Applications are being sent out to all 2012 participants.
"Vendors, including downtown merchants, retail stores, restaurants, food vendors, arts and craft vendors, vendors with local hand-crafted products and more from the Ticonderoga area as well as outside the area are encourage to participate," he said.
For more information or a vendor application contact the Ticonderoga Area Chamber of Commerce at 585-6619, Email chamberinfo@ticonderogany.com or go online at www.ticonderogany.com.
Darlene Treadway, owner of Burleigh's Luncheonette, joins Dedrick as co-chair for the event. Both are Ticonderoga Montcalm Street Partnership board members.
The Ticonderoga Montcalm Street Partnership is a not-for-profit organization established in 2007. Its mission is to create and enhance the economic, historic and social development of Ticonderoga's traditional business district, employing the National Trust Main Street Center's guidelines for organization, design, promotion and economic restructuring. Meetings are held monthly and volunteers are always welcome. Like the Ticonderoga Montcalm Street Partnership on facebook to stay up to date on TMSP events, news and more. For more information on the TMSP visit www.timainstreet.org.
Vote on this Story by clicking on the Icon