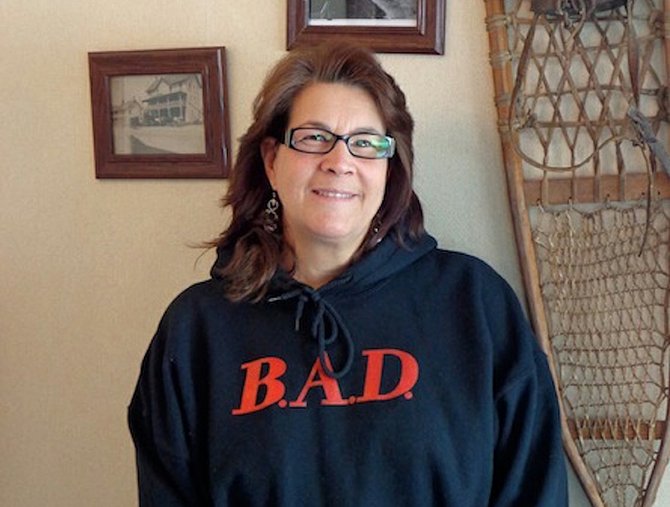 Indian Lake — Over the years, Elizabeth "Liz" Cannan, B.A.D. (Be A Donor) Chairperson, has worked diligently to raise awareness and funds for the National Kidney Foundation within the town of Indian Lake.
If you know Liz, chances are you know she's been fighting a genetic form of kidney disease for most of her life called PKD or polycystic kidney disease. And, for most of her life, she has been doing it with a smile.
A good example of this attitude and approach in the battle for those with the disease is when she stepped up to the plate, so to speak, and initiated the Annual "Be A Donor" Snowshoe Softball Tournament in the town of Indian Lake. That was four years ago. This Saturday, Feb. 23, the Fourth Annual Tournament will take place at the Benton Little League Ball Field.
It hasn't been an easy year for Liz, with one kidney removed two months ago and the other scheduled to be removed at the end of February.
"After the softball tournament," she said.
That is what she explained to me when we met at a local restaurant to discuss the fundraiser. It was clear that this fundraiser means so much to her and others with the disease, that the removal of the second kidney was scheduled around the tournament.
There she was, wearing a B.A.D. sweatshirt and a casual, easy smile while she explained that she has had to stop working because of her disease and undergo dialysis in Glens Falls twice a week. This will soon become three times a week once the other kidney is removed.

Dialysis takes about three and a half hours per session, in addition to the round-trip to Glens Falls. But it's clear that Liz is certainly not all about Liz.

She was telling me this so I could have a sense of the hardship and cost incurred by people with kidney disease. What's more, donations of a kidney cannot, of course, be solicited, and donations are preferred from living donors. This helps avoid the transplant rejection often caused by trauma to kidneys received from accident victims and the like. With a living donor, everything can be cleared and controlled. But the donor must contact a transplant center; the center cannot contact a donor.
(Continued on Next Page)
Prev Next
Vote on this Story by clicking on the Icon