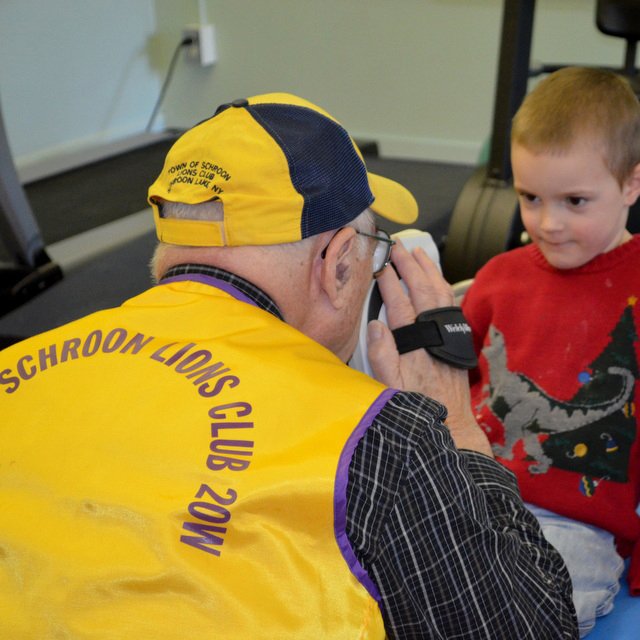 Schroon Lake — The Town of Schroon Lions Club, which is involved in many local charitable efforts, is getting back to its roots.
The Lions, which has a long history of helping the blind, are now helping identify sight problems in elementary school children through the Lions SEE program.
The program offers free eye screenings for children. In December screenings were held for pre-kindergarten and kindergarten students at Schroon Lake and Crown Point schools.

"Lions SEE stands for Screening Eyes Early and it is so important to their vision future," said Kevin Lavarnway, Schroon Lions president. "For young children, their vision is all that they know and do not realize that everyone does not see things as they do."
Trained Lions utilize scanners to take measurements of each child's eyes. Those measurements can detect problems with the eyes that no one, not even the child, may be aware of, Lavarnway said.
"The screening can detect a problem early enough that it can be treated," he said. "After a certain age, a child's brain can learn to ignore messages from the defective eye and there is little or no effective treatment that can reverse this problem. The key is early detection and intervention."
District 20-W, which includes the Schroon Lions and more than 30 other clubs in northern New York State, purchased four $5,000 scanners last year for local clubs to utilize. Training has also been provided to local Lions.

"Operating the scanner is very simple although it does take some practice to get consistently reliable results," Lavarnway said.

Flashing lights on the device hold the child's attention and various beeps and tones tell the operator how the scanning is progressing. A reliability number from 1 through 9 comes up on the screen to let the Lion know if the several measurements taken are close to one another.

(Continued on Next Page)
Prev Next
Vote on this Story by clicking on the Icon