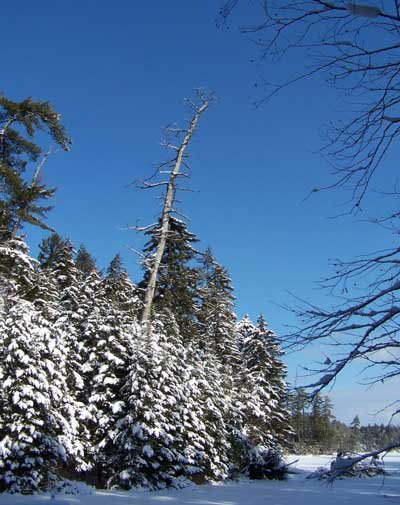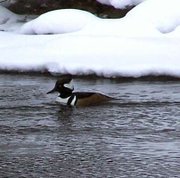 As I gaze out my office window, a stiff and steady west wind is sending tiny tornados of snow, tumbling across the frozen ground in my side yard, and finally the wind-driven snow is beginning to pile up.
After putting up with yet another dry, unseasonably warm and notably extended autumn, it appears winter has finally arrived.
The fierce, winter winds of the new season whip the landscape with a ferocity that appears to punish occupants for imposing yet another unnatural delay on the earth's natural rhythms of seasonal adjustments.
Winter is the only season that shares its wealth across the span of man's marked time, as it punctuates the calendar year from beginning to end. This may be the reason the season seems to be so persistent in the Great North Woods.
Nearly all the seasons descend upon the landscape gradually. Spring's greens push their way up through the soil, as buds slowly appear among the previously, barren wooden skeletons of the past season's forest.
Wildflowers will dot the marshes, as songbirds and peepers begin to sing from the bogs, as if announcing the arrival of the new season.
Summer follows slowly along, in a push and shove contest with the spring, and it isn't considered complete until the waters finally warm up enough to accept swimmers, as lighting bugs begin to blink in the warm, night air.
Eventually autumn rolls around and in no time it to gracefully unfolds like an Old Persian rug, to unveil all of the finest splendors a fine forest can afford.
The fall season arrives as a grand kaleidoscope of colors takes over the land, and slowly the sweet, moist, pungency of decay begins to perfume the mountain air.
A host of natural sights, sounds and scents continue to tickle the senses, as the season wears on, until slowly, gradually, and almost imperceptibly, the woodlands begin to shed their natural Technicolor Dreamcoats.
Joe Hackett is a guide and sportsman residing in Ray Brook. Contact him at brookside18@adelphia.net.
(Continued on Next Page)
Prev Next
Vote on this Story by clicking on the Icon