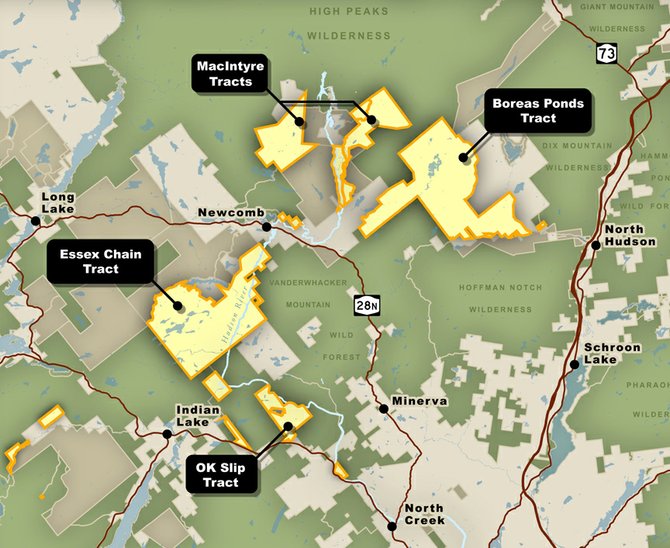 Minerva — In late December, New York state closed on the purchase of about 18,000 acres of land previously owned by the Finch, Pruyn paper company, which includes the Essex Chain of Lakes parcel, located in the towns of Minerva and Newcomb, according to Minerva Town Supervisor Sue Montgomery Corey.
The purchase — using the Adirondack Chapter of the Nature Conservancy as the middle man — is the first in a multi-year acquisition of 69,000 acres throughout the Adirondack Park, including OK Slip Falls and the Boreas Ponds. They will al become part of the state Forest Preserve.
The next step in the process will be the classification of the parcel. After that, the state Department of Environmental Conservation (DEC) will be deciding how to utilize this land under the Unit Management Plan, according to Corey. The Minerva Town Board has already met with representatives from the DEC to share their ideas of how this land could be used to benefit the town, local residents and tourism. After the classification process, the town expects to have further opportunities to work with the DEC on this issue.
Verizon cell tower permit
Supervisor Corey recently told the Minerva Town Board that Verizon had asked to postpone a meeting with the Planning Board in January until they answer some additional follow-up questions the Adirondack Park Agency (APA) had about the company's cell tower application.
Once the application is accepted, Verizon will follow up with the Planning Board. Corey said it is typical for the APA to have some additional questions for applicants. Corey has been in communication with the attorney for Verizon and will keep the town updated on the application process. She said that she, the Town Board, and the Planning Board, have been working diligently to support and facilitate the cell tower project since its inception. The proposed site is behind Sporty's Iron Duke Saloon on Route 28N.
(Continued on Next Page)
Prev Next
Vote on this Story by clicking on the Icon