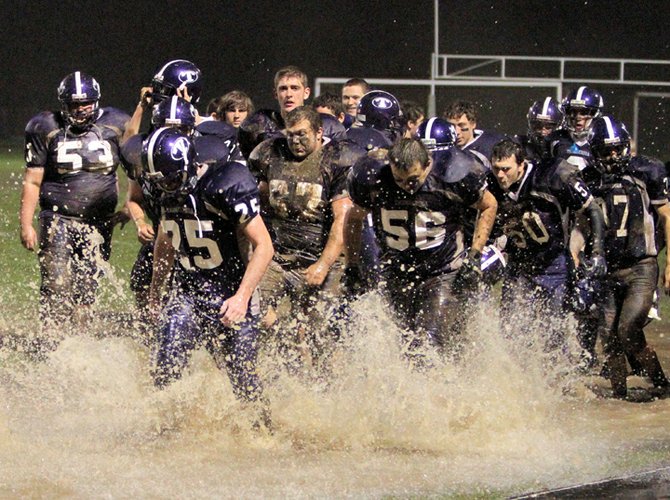 Ticonderoga — Ticonderoga High School athletes enjoyed a banner season last fall on the playing field and in the classroom.
All four Sentinel varsity teams — football, women's soccer, men's cross country and women's cross country — earned the New York State Public High School Athletic Association Scholar-Athlete Team award. To get the honor each team's academic average must be 90 or better.
"What NYSPHSAA requires is that a set number of team members have an overall average of 90 or higher," said Ticonderoga Athletic Director Bob Sutphen. "In our case, each fall team met this, with one of our teams actually surpassing the minimal number."
The men's and women's cross country teams each had seven athletes with better than 90 averages. The women's soccer team had 12 player meet the standard and the football team had 14 gridders reach the mark.
"This supports the research that students who participate in school activities outside the classroom statistically do better in school than their peers who do not," said John McDonald, Ti school superintendent.
"I would like to congratulate these students for being recognized for such a great accomplishment." he said. "I am proud that they are able prioritize their time to attend to their academics and still excel in athletics.  I would also like to thank their coaches and parents for supporting them and providing them with the motivation to succeed."
Men's cross country runners cited include Colvin Chapman, John Cook, Mark Donohue, Martin Glazer, Ryan Price, Cody O'Hara and Kody Parrott.
Led by Coach Jay Wells, the men's cross country team won the Champlain Valley Athletic Conference with a 17-1 record and Section VII Class D championship this fall before placing fifth at the state championship meet.
Women's harriers honored are Hannah Herbst, Elizabeth Aranguiz, Alaina Bevilacqua, Becky Barber, Naomi Forkas, Ashlyn LaPerle and Markie teRiele.
(Continued on Next Page)
Prev Next
Vote on this Story by clicking on the Icon