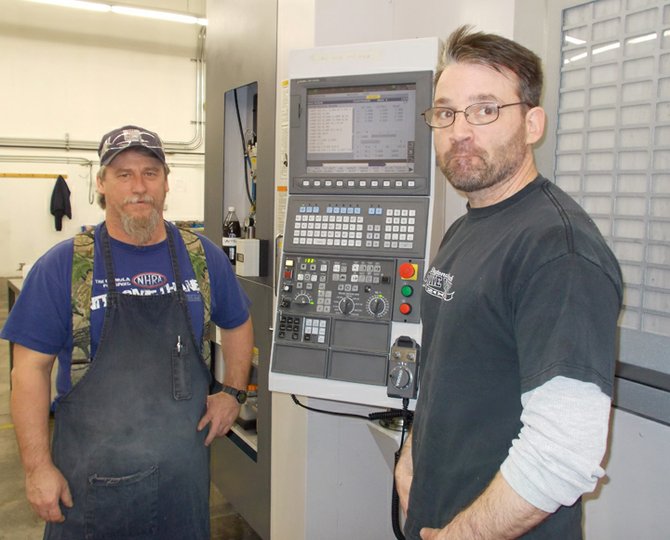 Mineville — Pre-Tech Precision Machining keeps a low-profile.
"I'm not sure how many people even know we're here," said Jim Kahler, manager of Pre-Tech's Mineville production facility. "I think people would be surprised to learn what we do."
Pre-Tech may be a well-kept secret locally, but it's known to people in the aerospace industry. The local shop recently received coveted AS9100C certification. AS9100C is the quality management standard specifically written for the aerospace industry awarded by the Online Aerospace Supplier Information System. The certification places Pre-Tech among the best in the Aerospace and Defense Quality Management System International Standard.
"It's great news," Kahler said. "It's confirmation that we're doing things the right way."
The certification may also be key to future expansion of the Pre-Tech Mineville facility.
"We hope this will allow us to branch out to new customers," Kahler said. "There are companies that won't deal with you without the AS9100C. The first thing they ask is if you are certified.
"We're doing well here, we stay busy," the manager continued, "but we'd like to get more business and expand in the future."
Established in 1985, Pre-Tech is headquartered in Williston, Vt. It opened a production plant in the Moriah Industrial Park in Mineville in 1998. The firm has 71 employees, 22 in Mineville. Pre-Tech is a manufacturer of precision-machined metal and plastic components. At any one time the plant is making up to a dozen different items. Most relate to aerospace, but some are biomedical.
"We make parts in this facility that aren't made anywhere else in the world," Kahler said. "More than 90 percent of what we make flies."
That's a reference to the large mount of work done for government and commercial aerospace industries. For security reasons, Kahler and other Pre-Tech employees do not discuss specific products or customers.
(Continued on Next Page)
Prev Next
Vote on this Story by clicking on the Icon