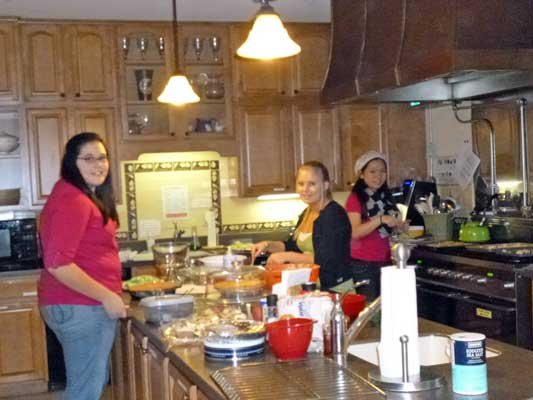 Ticonderoga — A group of Ticonderoga students recently spent a day helping ailing children and their families.
Members of the Ticonderoga High School Future Business Leaders of America club did chores and assisted those staying at the Ronald McDonald House in Burlington. Ronald McDonald House is a "home away from home" for families with seriously ill children seeking treatment at Vermont Children's Hospital at Fletcher Allen Health Care.
Students Morgan Dean, Anita Zhang and Katelin Troche along with teacher Bill Morse took part.
"Ronald Mcdonald House Charities is FBLA's main charity," Morse said. "Often when children get sick and have to go to a hospital far from their families, parents want to be with their child every second during such a difficult time. It's exactly these situations why there's RMHC. They provide places where families can be together. Children can be surrounded by the irrepressible love and support of their loved ones.
"Our Ticonderoga students were determined to help out for such a worthy cause and spent much of the day in the kitchen preparing several dishes with their own ingredients," he said. "They made chocolate chip cookies, apple crisp and carrot cake."
The experience was uplifting, Morse said.
"The entire FBLA club as well as the community as a whole is very proud of what the students are accomplishing," he said. "The charity welcomed us with an open heart and we made sure to open our hearts to their worthy cause. Students were so pleased with the work they accomplished that plans are being made to go again to support RMHC in the spring with more volunteers and more to accomplish."
Vote on this Story by clicking on the Icon