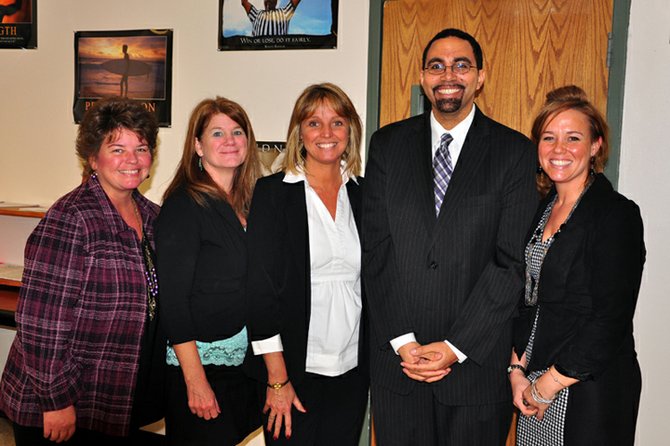 Crown Point — Crown Point Central School is a leader in meeting New York State's new educational requirements.
That's why the school was selected to make a presentation to John King Jr., state education commissioner, during his recent tour of the North Country.
Teri Calabrese Gray, assistant superintendent at Champlain Valley Educational Services in Plattsburgh, asked Crown Point and Northern Adirondack Central School to explain their efforts to meet new state guidelines. The presentation was made in Plattsburgh.
"She (Calabrese Gray) mentioned that she knew that Crown Point had been working on the new New York State Common Core Learning Standards and Race to the Top Initiatives for the past two years and thought that we would be a great example to highlight our progress," Shari Brannock, Crown Point superintendent, explained.
Common Core Learning Standards define what students are expected to learn so that teachers and parents can better prepare them for college or the workforce. The state adopted the Common Core in 2011. As a result, public school districts are changing what they teach and how they teach to align curriculum the standards.
"In light of all the changes in education these days, we were delighted to share how our implementation is going," Brannock said. "We highlighted, with a 'can do' attitude, that what you think you can't do does not really matter.
"During our presentation, the commissioner nodded in agreement to our transition story," she continued. "Crown Point is using the instructional shifts in the new standards to help us go from good to great."
Crown Point teachers Jaci Pockett, Lisa Harrington and Tara Spaulding gave the presentation.
"Our intro, using John Mayer's song 'Waiting on the World to Change,' and statement that Crown Point Central School did not wait, we met the challenge, was very well received," Brannock said.
As an example of Common Core implementation, the Crown Point teachers discussed a third grade project, "Animals in the Adirondacks."

(Continued on Next Page)
Prev Next
Vote on this Story by clicking on the Icon