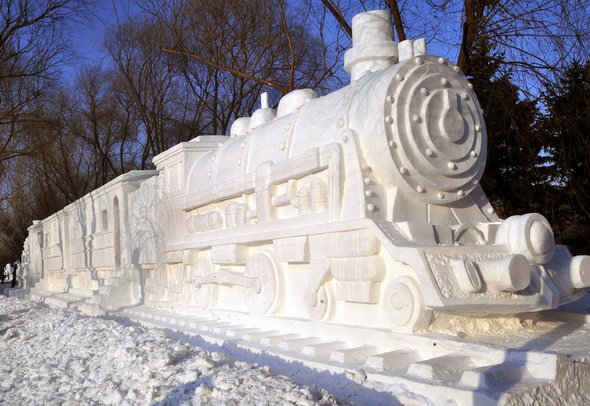 Schroon Lake — Snow artists are being sought in Schroon Lake.
Participants are wanted to take part in a snow sculpture contest. The contest is part of the inaugural Winterevent, a series of activities in the community Feb. 15 through March 17.
The snow sculpture contest will kick off Winterevent Friday, Feb. 15, in the town park.The theme will be "Honoring our Children." Up to 25 contestants will compete for almost $700 in prizes.
People can enter by contacting Joanie Cunningham at Joaniesgoodies@gmail.com or 532-9900.
"We are looking for talented snow artists to make our first Schroon Lake snow sculpture contest a great success," said Jessica Potter, co-chairwoman of the contest"
"It's great fun for families, a team of classmates, or an organization to participate in a worthwhile event that shows off the Schroon Lake region's talent," said Cunningham, creator of the event. "It's so much easier to sculpt in snow, and we have such great wood carvers in the Adirondacks so I expect we should have some incredible sculptures."
The snow sculpture winner will receive $200 with over $700 in total prizes to be awarded. The winners will be chosen by the public, who can view the sculptures in the park during the five-week Winterevent and either vote on Facebook at SchroonLakeEvents or at a participating sponsor.

The awards will be given out on Saturday, March 9, at 7 p.m. at the Winterevent awards dinner to be held at Flanagans Pub.
"We think this will be a great annual event," commented Penny Edenfield, general manager of Flanagans Pub and a participating sponsor.
Winterevent will continue with a chili cook-off at the Schroon Lake Fish and Game Club on Saturday, Feb. 23, 11 a.m. to 2:30 p.m. The proceeds from the cook-off will be donated to Schroon Lake Fire Department.
Continuing with the culinary theme, participating businesses will be celebrating "The Taste of Schroon" on Main Street 1 to 4 p.m. Sunday, March 24.
(Continued on Next Page)
Prev Next
Vote on this Story by clicking on the Icon