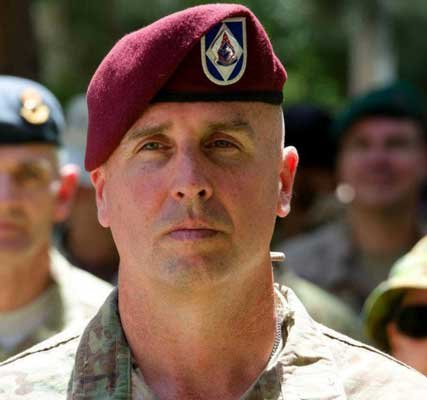 Port Henry — A 1985 Moriah Central School graduate and Port Henry native has been selected a command sergeant major and will be assigned to one of only two active duty Press Camp Headquarters in the Army in July as the senior enlisted adviser and leader of soldiers.
Sgt. Maj. Cameron Porter, son of Peggy and Charles Porter, has served on active-duty status in the Army for 24 years. The Army's Human Resources Command recently announced Porter's activation to command sergeant major, the highest enlisted rank in the Army.
Porter's father, Charles who is deceased, was the meat department manager at the Schroon Lake Grand Union grocery store before retiring. He also worked in the meat departments at the Ticonderoga and the Port Henry Grand Union grocery stores during his career. Porter's mother, Peggy, is a retired physical education teacher at Moriah Central School. She lives in Ironville on Penfield Pond.
"Serving soldiers as a command sergeant major is the greatest honor the Army can bestow on a senior noncommissioned officer," said Col. Robert Bennett, the director of Enlisted Personnel Management, Human Resources Command. "He should be proud of his selection for this awesome responsibility. I extent my congratulations for his continued success as a leader and command sergeant major."
Porter currently serves as the public affairs sergeant major for the XVIII Airborne Corps and Fort Bragg. During his career he has also served in the 82nd Airborne Division, 101st Airborne Division, 1st Infantry Division and 2nd Infantry Division among many other units. He has been stationed or deployed overseas to Saudi Arabia, Iraq, Korea, Germany, Croatia, Bosnia, Jordon and Panama to name a few. Porter's most recent deployment was to Afghanistan from January to July 2012 where he served at NATO's International Security Assistance Force Headquarters in Kabul as the communications sergeant major.
(Continued on Next Page)
Prev Next
Vote on this Story by clicking on the Icon