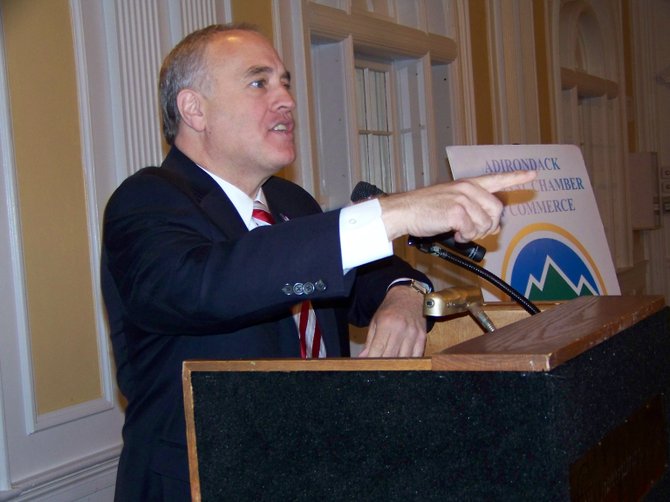 GLENS FALLS — While the state's economy is rebounding from the recent deep economic recession, the Adirondack region has continuing challenges, state Comptroller Thomas DiNapoli told area leaders Monday during a visit to Glens Falls.
DiNapoli gave a speech and answered questions at a breakfast held May 19 at the Queensbury Hotel in Glens Falls. About 90 local politicians, entrepreneurs and economic development officials attended the event, hosted by the Adirondack Regional Chamber of Commerce.
New York State as a whole, he said, is gradually climbing back out of the recession, he said.
"We're on the road to recovery — but we're not moving forward like gangbusters — we're not generating the kind of job growth we'd like to see."
DiNapoli noted the Glens Falls metropolitan region in March had an unemployment rate of 8.3 percent, equal to the state's level — but unlike the entire state, the Glens Falls area has only recovered 25 percent of the jobs it lost during the recession. The state had a net increase of 350,000 jobs over the past three years, he said.
While job growth has been relatively strong overall in the state, it's been primarily with businesses and industry, and not in government or schools, which have experienced substantial downsizing, he said.
Region faces special problems
Despite the statewide economic rebound, a variety of issues are exerting financial stress to municipalities, residents and businesses in the Adirondacks, he said.
"There are unique challenges in this part of the state including environmental issues," he said. noting how a balance was necessary between economic development and environmental protection.
In addition, the population in the Adirondack Park is declining, and the Park residents remaining are aging and requiring more services, at a time government revenue is declining, he said.
"Each part of the state has its own challenges," he continued.
(Continued on Next Page)
Prev Next
Vote on this Story by clicking on the Icon