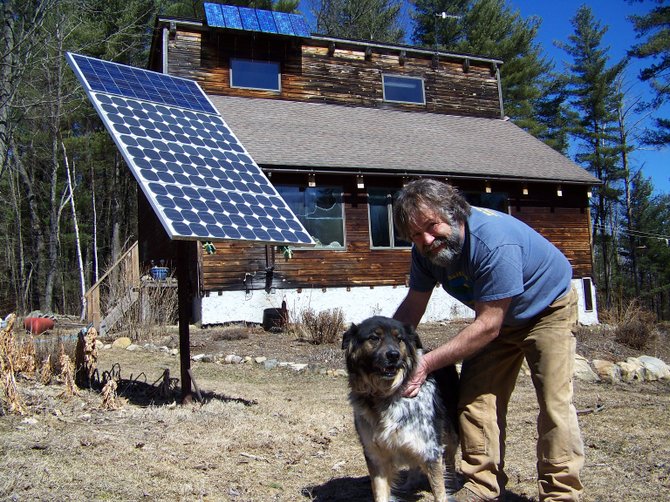 BOLTON — Three miles past the end of the paved portion of Padanarum Road, Bill Campbell has lived for 23 years off the grid in a passive solar home, pursuing a lifestyle that avoids materialism, savoring the rhythm of nature in the Adirondacks.
While dozens of others have adopted such a sustainable lifestyle for several years and then returned to civilization, Campbell has pursued his close connection with nature for a generation or so.
Wearing his trademark grin, Bill Campbell recently stood in the yard of his passive-solar home, gazing past his vegetable garden towards Tongue Mountain. Not far away was his biodiesel distilling equipment, which he puts to use in producing fuel for heat and to power his vehicles.
"I'm very happy," he said, playing with his dog amid four solar panels in his yard. These and six others on the roof of his home provide several thousand watts to provide power for lights and a few efficient household appliance.
"To tell the truth, I'm the happiest person I know," he continued.
Campbell inspected his garden, reviewing plans to rotate his crops, which sustain him and his son Liam throughout the year.
Most years, the produce he grows organically — kale, mustard greens, tomatoes, carrots, squash potatoes and beets — provide most of the food they need in season as well as through the winter. He also has apple trees and blueberry bushes that are productive.
But nature is not always cooperative. Last year, the lower Adirondacks experienced a drought which prompted Campbell to construct a supplementary irrigation system for his garden. In response, Campbell harnessed nature's power to provide water needed for a bountiful harvest.
With the help of friend Dave Cummings, Campbell devised a ram pump which employs the kinetic energy of falling water to transfer water, ounce by ounce, from a brook 150 yards away uphill to his house. Without employing electricity or fuel, the system fills a 250-gallon tank at his house overnight. From there, it's distributed to his garden as needed.
(Continued on Next Page)
Prev Next
Vote on this Story by clicking on the Icon