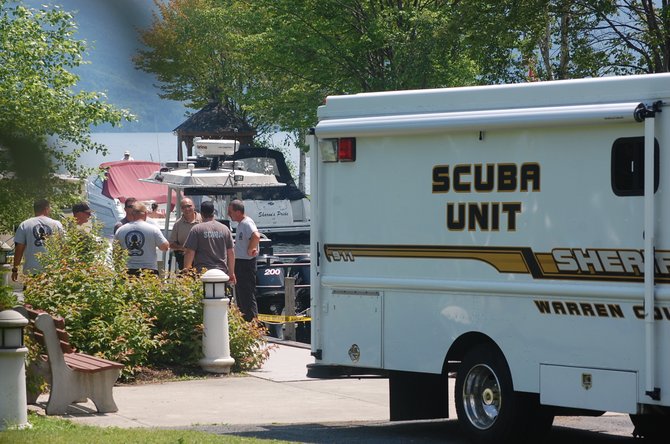 HAGUE — William B. Scott, the man who drifted away from a fishing boat that capsized July 1 just north of Hague Beach remained missing Thursday — and his wife, who spent hours on shore waiting for news, shared her thoughts about Scott and the rescue effort.
Scott, 59, of Westerlo N.Y. wearing a personal flotation device, jumped into the waters of Lake George Tuesday as the 17 foot fishing both he was aboard began taking on water, reported police.
Fishing partners George Boss, 75, of West Kingston, R.I. and Thomas Greene, 70, of Derby, Conn. clung to the boat and communicated with Scott for approximately 10 minutes, but strong winds separated Boss and Greene from Scott.
According to the Warren County Sheriff's Office, the fisherman were trolling the waters when a fishing line or lines tangled in an unknown object up to 130 feet below the surface.
Members of the Boss and Scott families have spent hours over the past two days on the shores of the beach waiting for news from Sheriff's officers or State Police about Scott's whereabouts.
"George and Bill have been fishing for eight or nine years," Colleen Scott said about her husband William. "Once every year they come up to the North Point (Hague). I just keep thinking 'Bill, you loved it so much, now come on.'"
Warren County Sheriff's officers, Lake George Park Commission personnel and State Police have been heading up the search efforts.
"My children have been a bit upset that they haven't looked closer to the shoreline," Colleen Scott said. "Tuesday night I would get these five minutes of sleep at a time and I swear I could just hear Bill saying, 'I'm right here, just stay with me, just hold on.'"
The search efforts were halted late Wednesday afternoon when a series of thunderstorms swept through the area.
(Continued on Next Page)
Prev Next
Vote on this Story by clicking on the Icon