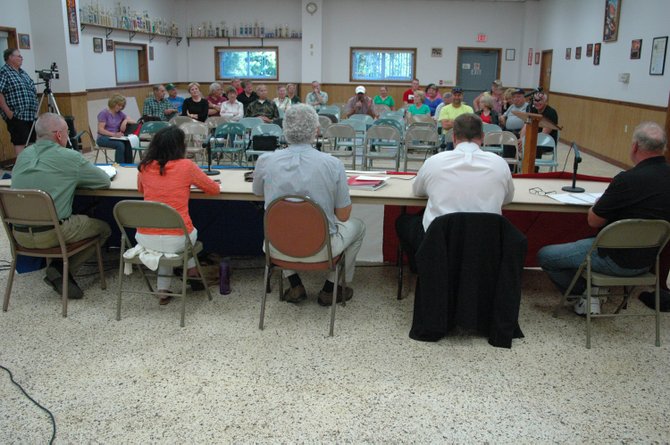 Moriah Center — Beauty may only be skin deep, but it does make a first impression.
Appearance was the hot topic at the first Moriah public information meeting held by the town board at the Moriah Firehouse June 19 and attended by almost 40 residents.
"Are there any plans for the improvement of the appearance of the town," resident George Pilger asked. "The upsetting thing someone said to me once was why is the main part of town such a mess."
"There are eyesores when you come into town," Geirgianna Scott said. "It's concerning to see so many people disregard codes."
"I think that it is important that as many people as possible speak to the issue of the appearance of the town," Diane Lashway said. "Now, you don't see the pride. You see so many abandoned properties, and it is such a sad site in the community."
Barbara Baker said concerns over community aesthetics was nothing new.
"It's not the owners who live in Port Henry," Baker said. "It is concerning because the village is the first impression people get."
"This is the number one issue on our mind as well," supervisor Tom Scozzafava said. "We have condemned places and have had places torn down. The legal system for things like this is super expensive and lengthy."
Scozzafava said the town enforces the state regulations when it comes to code enforcement over the laws currently on the town books.
"Our local laws for junk yards and junk cars are so antiquated. They are a joke," he said. "We work to enforce the state codes."
Scozzafava also agreed with Baker that a major issue is landowners who do not live in the town.
"A big problem is absentee landowners in Witherbee and Port Henry," he said. "I am going to say that 80 percent of the people work hard to keep their properties up. We are going to get very aggressive about this."
(Continued on Next Page)
Prev Next
Vote on this Story by clicking on the Icon