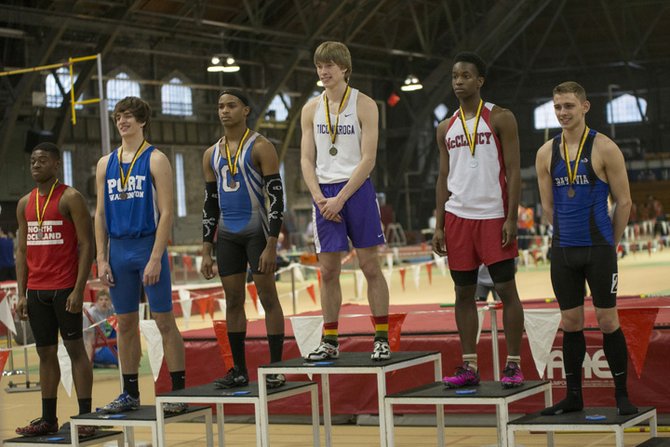 Ticonderoga — Jay Hebert didn't run his fastest time at the New York State Public High School Athletic Association indoor track and field championship meet, but he probably ran his best race.
The Ticonderoga athlete, the defending champion, won the 55-meter hurdles in 7.37 seconds, lunging across the finish line to edge Sidney Gibson of Msgr. McClancy High School by 1/100th of a second at Cornell University March 1.
"This win by Jay is the most exciting win of his career, and mine in 15 years of coaching," Ti Coach Walt Thorne said. "To have a race this close and to win shows what kind of athlete he is. What a way to finish out his senior, and last, indoor season of high school indoor track.
"No one was sure who won the event until they posted the score on the screen and the announcer called out Jay's name," he said. "His parents, the town of Ticonderoga, the school, the track team and coaches couldn't be more proud of this young man for what he has accomplished."
Hebert, whose strength is accelerating late in the race, didn't realize he'd won until the computerized results were posted.
"Usually I can make up ground as the race goes," he said, "but when I got to the fourth or fifth hurdle and he (Gibson) was right there with me I knew it was going to be close.
"It took all five hurdles to get it done," he said. "Coming off the fifth hurdle (the final one) there was no letting up. I knew I had to run through the finish."
In an event usually decided by tenths of a second, Hebert has established himself as, arguably, the best Section VII track athlete of all time.
It's Hebert's fourth straight hurdles state championship. He won the 110-meter hurdles at the outdoor championships in 2012, then captured the 55-meter hurdles indoors and the 110 hurdles outdoors in 2013.
(Continued on Next Page)
Prev Next
Vote on this Story by clicking on the Icon