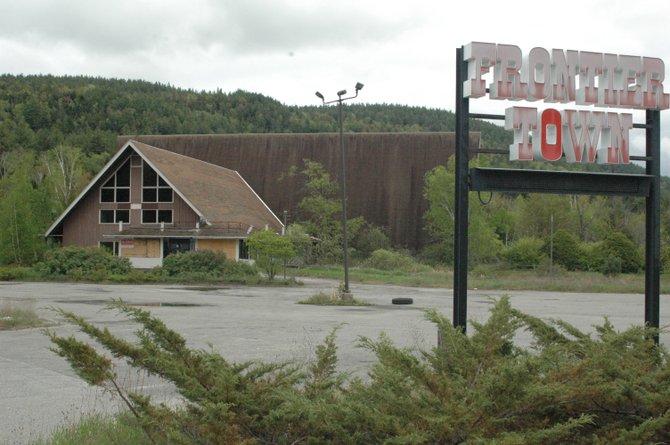 NORTH HUDSON — Three weeks after the Essex County Board of Supervisors moved to reject a local businessman's bid for the former Frontier Town property, a once-popular theme park off the Northway, the stakes have been raised, counter offers have been made and legal teams are bracing for a fight.
At the county tax auction on April 30, Keeseville resident George Moore offered a bid of $49,500 for a cluster of four parcels adjacent to the property he already owns, a structure known as the A-Frame that he purchased at a previous sale.
But at a lawmaker meeting in Elizabethtown on May 12 to accept or deny each of the bids — altogether, 139 bidders bid on 150 total parcels — the board of supervisors moved to reject Moore's bid in favor of a higher offer from the town of North Hudson, who offered $60,000 at the meeting (but did not, like Moore, attend the auction and engage in the bidding process).
His was the only bid that was outright rejected by the lawmakers.
North Hudson town supervisor Ronald Moore (no relation to George) told lawmakers at the meeting that discussions with county officials prior to the auction stipulated that the parcels would only be sold if the buyer met the $146,379.88 owed in back taxes, a condition that was singularly applied to these parcels, which span 88 acres and have a market value of $568,900.
Now, Moore is offering $65,000.
"I'm 87 and I've been to a lot of auctions of all kinds," Moore told the Valley News in a phone interview. "I've bought a lot of property over the years and I never saw one handled this way."
'VERY DISAPPOINTED'
Moore's attorney, William Russell, confirmed that a counter offer was sent to County Attorney Dan Manning's office and told the Valley News he was "very disappointed" in the board's decision and that his client would rather resolve the issue "in a practical way" than through the courts.
(Continued on Next Page)
Prev Next
Vote on this Story by clicking on the Icon