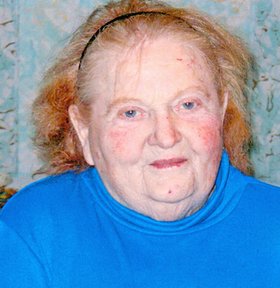 Mary Louise Meehan
Hague
September 23, 1937 - January 31, 2012
Mary Louise Meehan, 74, born on Sept. 23, 1937, at her family home in Hague, passed into the loving arms of her Savior on Tuesday, Jan. 31, 2012, at her same family home, surrounded by her beloved family and friends.
She was the daughter of the late Frank H. and Evelyn (Clark) Meehan.
For many years, Mary Louise worked as a LPN for Moses-Ludington Hospital in Ticonderoga after graduating from Albany School of Nursing.
She had a life-long love of all animals but held a special place in her heart for her dogs.  She often could be seen driving around town with many of her dogs.  She also had a great love of horses and participated in many holiday parades and local horse shows.
Mary Louise was kind, loving and willing to lend a hand to anyone that was in need.  She will be fondly remembered by all that knew her.
Mary Louise was pre-deceased by her parents, Frank H. Meehan and Evelyn Clark Meehan, her sister, Dr. Dorothy Meehan Rosekrans, her brother, James Sherman Meehan, and her nephews, Richard Meehan and Stephen Rosekrans.
She is survived by her beloved brother, Norrell J. Meehan and his wife, Jeannette N. Meehan of Ticonderoga.  She is also survived by many nieces and nephews, whom she dearly loved.
Arrangements are under the direction of the Wilcox & Regan Funeral Home of Ticonderoga.  Services will be held on Saturday, Feb. 11, 2012.  Visiting will be from 1 to 2 p.m. at the funeral home, with a funeral service to follow with Pastor Steve Smith leading the celebration. 
A small gathering of family and friends will follow at 3 p.m. at the EMA in Ticonderoga.
In lieu of flowers, the family requests donations to the Westport Animal Shelter, Lake Shore Road, Westport, NY 12993 or the Hague Volunteer Emergency Squad, Hague, NY 12836, in her memory.