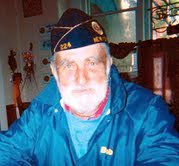 Elton Robert Phillips
Ticonderoga
February 7, 1929 - February 16, 2012
Feb. 7, 1929-Feb. 16, 2012
TICONDEROGA — Elton Robert Phillips, 83, of Ticonderoga, passed away on Thursday, February 16, 2012 at the Kindred Rehabilitation Center of Springfield, Ma.
Born in Mt. Kisco, New York, February 7, 1929, he was the son of the late Elton Chester Phillips and Dorinda Elizabeth Dakin.
Mr. Phillips was a veteran of the U.S. Navy, having served during W.W. II and the Korean War.
He lived in Mt. Kisco, New York for many years, where he was employed by the U.S. Postal Service.
After his retirement, he moved to Ticonderoga, New York.
He was a life-time member of the American Legion Post # 224 of Ticonderoga and the American Legion of Mt. Kisco.
Elton was an avid outdoorsman. He loved gardening and especially loved fishing.
He was pre-deceased by his wife, Ethelyn J. Phillips on November 27, 2007. He was also pre-deceased by one son, Kevin Phillips.
Survivors include his three children, Robert Brian Phillips of Ticonderoga, Virginia Gail Leather of Ticonderoga, and James Kenneth Phillips of Wingdale, NY; and one sister, Joan Potter of Texas. He is also survived by four grandchildren, five great-grandchildren, and several nieces and nephews.
Relatives and friends may call Monday, Feb. 27, 2012 from 4 - 6 p.m. at the Wilcox & Regan Funeral Home, 11 Algonkin St., Ticonderoga.
A Memorial Service will follow at 6:00 p.m. at the funeral home. The Rev. Scott Tyler, Pastor of the First United Methodist Church of Ticonderoga, will officiate.
Interments will take place on Tuesday, Feb. 28, 2012 at 2:00 p.m. at the family plot of the Oakwood Cemetery of Mt. Kisco, New York.