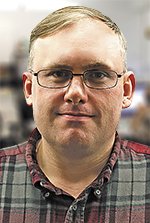 Keith Lobdell
South Bureau Editor
518-585-9173 Ext: 111
Keith Lobdell returned to the Valley News in December of 2010 after spending four years as a reporter with the Whitehall Times. Lobdell previously worked at Denton Publications from 2000-2004. He lives in Westport with his wife and three children.
Recent Stories
On Sept. 19, it was Garrison Hughes' turn to run the zone read himself as the Ticonderoga Sentinels used it to spur a pair of big drives en route to a 31-0 win over rival Moriah.

A wet field and confident Ticonderoga squad held the Peru Indians at bay for three quarters of their Sept. 13 football game.
There were some new faces and some old in new places as the 2014-15 school year started for the Ticonderoga Central School District.

A school-wide field trip was held Sept. 5, taking students to the Penfield Homestead Museum for a day of learning and celebration as the school was named a College for Every Student (CFES) School of Distinction for the fifth straight year.

Parents, teachers and community members came to St. Mary's Church Sept. 9 committed to move forward after having their hearts broken by the Sept. 5 fire at their school.

The third annual Lance Gregson 1-Eye Classic will take place Sunday, Sept. 14, with all rides starting and ending at the Schroon Lake Town Beach on Leland Ave.

Sister Sharon Dalton, Principal of St. Mary's School, announced when school resumes the primary grades (pre-k through fourth) would have classes at the Ticonderoga Methodist Church, while the upper classmen (fifth through eighth grades) in the would meet in the basement of St. Mary's Catholic Church.

While there is only one major scar on the outside of St. Mary's School, inside the walls is a scene of destruction and devastation.

Chief Mark Johns has announced the fire has officially been deemed as suspicious and the investigation is in the early stages.

"It has been phenomenal," Father Kevin McEwan said of the support he has received less than 24 hours after the fire was first reported. "So many have reached out and said whatever you need, we will work with you to make it happen."